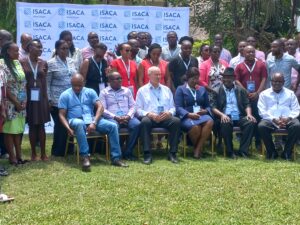 The Central Bank of Kenya has been asked to be open to innovation and expand the space for digital banking and lending to spur economic growth of the country.
Stakeholders in the industry have raised concerns over push by CBK to regulate the lending sector saying the move will stifle efforts for innovation growth.
The Central Bank of Kenya (CBK) in September directed unregulated digital lenders to cease operations in the country following the lapse of the 6-month registration period that required them to comply with the Digital Credit Providers regulations.
Under the regulations, all digital lenders were expected to apply for licenses from the banking regulator before September 17.
Gazettement of the regulations follows the signing into law of the Central Bank Act, 2021 in December, bringing digital lenders under the watch of the banking regulator for the first time.
This is due to concerns raised by the public about the predatory practices of digital lenders, among them, high costs, unethical debt collection practices, and the abuse of personal information.
Speaking during the annual ISACA conference in Diani, Kwale County Strathmore University's Academic and Research director Dr Jim Mcfie said over regulation will stifle the industry which is operating during the digital age.
He said the country has enough policies for different sectors which only need implementation follow up and not coming up with new policies.
The ISACA conference is addressing the need to leverage on sustainable digital trust during this digital age where auditing and controls of banking systems is vital to ensure safety of the client's information.
Over 100 delegates are attending the conference at Leisure lodge resort in Kwale coming from as far as Uganda and Samburu county.
ISACA vice president Mercy Omolo said that policies put in place to enhance digital capabilities in public and private organisations should be enforced in a manner that builds trust of the citizens.
She said that security and safety of digital is critical to ensure citizens make use of digital platforms developed by various companies.
"We advise companies how to protect data and enhance digital trust among citizens and companies, this is something very important," she said.
Dominic Kamenyi the ICT Director, Office of the Auditor General said that the country is losing alot of tax due to over regulations of digital lending.
He said that digital trust is very key for organizations and companies.
"How on earth will a company give you data when it knows that their information is not protected,' he posed.
Dominic also took issue of integrity and honesty on matters of digital trust saying the culture should be inculcated in the young generation.
"We have many businesses going away from Kenya because sometimes we fail to be honest, we must do something, 'he added.
He said that failure by many Kenyans to register Huduma numbers is simply because they were not properly informed from the beginning with the digital trust issue being taken for granted.
"Organizations and governments must think on how best they can deal with its publics on such matters because they have a negative effect if not handled well,' he warned.