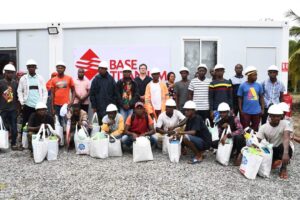 By Cicilia Nelima
Serving Our Community…That was the slogan that Base Titanium was using while launching the Community Youth Skills Training program targeting villages where Base has its operations.
When the mining company launched the program mid this year, the aim was to offer the youth an opportunity to gain valuable knowledge of various technical trades and skillsets for them to be productive in society.
The first cohort to benefit from the program were 55 youth from 11 villages neighbouring the Kwale mine.
Agnes Mwaka, one of the youths who benefitted from the project said that she is optimistic that her life will change after the training.
"I have been sponsored to go for tailoring training with college fees paid fully at Ukunda Polytechnic. They have given me uniforms, safety boots and a roll of material that I will use during my training period. It is really encouraging, "she said.
Agnes, just like other youths who are going for technical skills, said that the mining company's effort to focus on youth training is very important.
According to Mwaka, many youths lack jobs and therefore giving them skills creates opportunities for self-employment to avoid over dependency on employment.
"We really appreciate what Base Titanium is doing to our community," she added.
Salim Mwamanga, a chairman in one of the villages, neighbouring the mining company, said that the initiative has greatly helped parents who are unable to support their children to progress with their studies.
"It a relief for most parents because the biggest problem we were having in our villages was lack of school fees. Our youths were taking Muguka and other drugs because they did not have anything to do but now, they will be busy studying a skill which will help them in the future," he said.
"It was devastating to see our youths going to waste without any help. We felt bad seeing them idle but we appreciate Base Titanium for chipping in to help following our request," he added.
About 11 villages have benefited from the project including Bumamani, Zigira, Mwandimu, Fihoni,Vumbu,Magaoni,Majikuko, Madongoni and Mwaweche.
Mwamanga said that once their children have skills, they will be able to get employment or engage in self-employment projects.
Base Titanium company General Manager Simon Wall said that the training program will ensure youths get out of college with skills that are capable of making them entrepreneurs.
"We are doing this because after engaging the community they said that they want youth's empowerment and that is why we started with 55. We hope by the time we are at the tail end of mining we would have been able to support more than 200 youth through the training program," he said.
Mr Wall noted that the new training program which runs for six months will compliments some of the program that Base already support the youth including the graduate trainee programme which is an 18-month program for undergraduates who have just completed their studies and looking for work experience.
Besides the GT programme, Mr Wall also noted that Base offers 3-month internship and an apprenticeship programme which targets form four leavers to train in technical trade discipline such as mechanical, electrical and automotive engineering.