BY PRIMEROSE OMOTO AND FLORA AWINJA
Traders lined along the Ukunda highway in Kwale County are busy doing their businesses but anxious about their safety.
Cases of robbery with violence within Diani are on the rise with juvenile gangs targetting unsuspecting residents, tourists and residential areas.
The hardworking men and women have been running into machete-wielding gangs who rob and assault them.
Coast Times Digital has visited some of the victims who have been robbed off their money and mobile phones and suffer knives and panga-inflicted wounds.
Mzee Jumapili Mohammed sadly narrates his encounter with the gang.
He said things unfolded so quickly that he could barely remember some of the incidents.
He was attacked by a juvenile gang believed to be aged 13 and 15.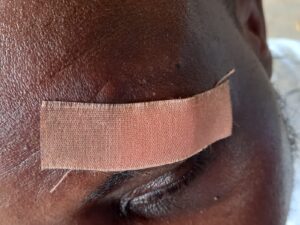 Mohammed said the gang demanded to have his belongings and when he resisted, they hit him with a metal rod on the head.
A musician Duncan Kuria has a similar story to tell.
He was retiring home from a night shift when a gang attacked him near Dr. Babla secondary school where he was badly roughed up and had his phone and money stolen.
He escaped by a whisker with some bruises on his body.
"They demanded I hand over my phone. When I tried to resist, they roughed me up badly. I was lucky to escape with minor bruises," he said.
Tuk-tuk and bodaboda drivers are also condemned to the same fate.
Ali Salim's colleague was robbed and left with a severe head injury following a panga cut.
The injury affected the friend's ability to work. Since then they have been avoiding the hotspot areas.
Another resident from Mwamambi who sought anonymity said she was ambushed by three people on a motorbike.
She was from work and heading back home when the horrific incident happened.
"I was coming from my workplace in Darad and was ambushed by three males on a motorbike," she narrated.
The woman said she was robbed at a knife point. The thieves stole her purse, money and mobile phone.
She sustained an arm injury because of struggled too much to save her purse.
Another local Keth, not her real name was also confronted by the same gang as she was waiting to pick up her child from school at Diani Markaz.
She was attacked at 7:00 pm when people from the motorbike suddenly jumped next to her and put a panga on her neck.
Keth was ordered to hand over her smartphone or lose her neck.
The locals are now calling police officers to beef up security.
The residents also want CCTV cameras installed in streets to curb insecurity.
Another victim told Coast Times Digital that he has been robbed several times with reports at Diani police station yielding no fruits despite police downplaying the issue.
He said his wife was attacked during the day by people known to her,  she reported but no arrest was made.
The narration of victims begs the question of where is the police. 
The constitution guarantees freedom and security of every person in Kenya.
Kwale county commissioner Michael Mwangi Meru said that his security team is on the move to ensure the area is secure ahead of festivities.
Meru said that the situation is not worse as being claimed adding that security patrols are going on in the area.
Meru said that they will not allow juvenile to disrupt peace warning that police will arrest all those found involved in criminal activities.
" They will be arrested  and taken to court.  The rule of lawust prevail,  " added the commissioner.