Diani walkers in partnership with different stakeholders in Kwale County planted seedlings after a 12-kilometre walk within Ukunda in Msambweni constituency.
Diani Walker is a group of passionate individuals who are keeping fit through walking and having fun dubbed A Step 4 One health.
In their weekly keeping fit walk, they started walking from Mvindeni with the over 150 walkers snaked through Ibiza, Bongwe administration offices, Shamu primary school and back to Mvindeni a total of 12 kilometres.
The tenth walk dubbed the Mazingira edition saw passionate walkers planting over 100 trees at the Mvindeni opportunity centre ground after Msambweni MP Feisal Badar gave them the go-ahead.
Stakeholders who participated in the event include Base Titanium mining company which is known for its environmental conservation and rehabilitation at the already mined sites in Maumba and Nguluku, Kenya Red Cross Kenya, Conservation Alive Kenya, Coast Times Digital, teens Watch, Romika and Kwale county government among others.
Tourism, Trade and Enterprise Development county executive committee member Michael Mutua said that the program was timely urging all Kenyans to work towards planting enough trees during the rainy season.
"We will be planting trees every time we walk every Saturday so that we can support the dream of our president William Ruto and also Kwale county governor Fatuma Achani," he said.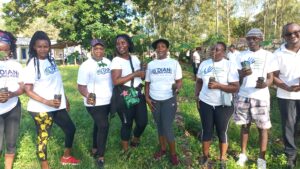 Mutua said that the Diani Walkers Mazingira initiative will go a long way in ensuring the environment is clean as well as supporting all conservation plans to mitigate the effect of climate change.
"We are focused on improving this area so that soon we can have enough trees around this Diani," he said.
Jael Mumbe Msambweni assistant county commissioner lauded Diani Walkers for taking a bold step towards implementing President William Ruto calls for Kenyans to plant about 15 billion trees by 2030 in a bid to increase forest cover and conserve the environment.
She said that there is a need for every Kenyan to take advantage of the rains to plant trees at their farms to increase forest cover and also mitigate the effect of climate change.
Conservation Alive Kenya official Hemed Bakuli said that they will continue to support such environmental programs since they go hand in hand with their theme of serving humanity and nature.
"Our theme is in line with Diani Walker's vision and that is why we will continue supporting such initiatives. Today we gave 100 seedlings for planting and anytime this program is happening we are ready to support," he said.
Diani Walkers co-founder Alloys Musyoka said that they started the group to advocate for individual health and environment through walking.
"When we walk and plant trees we are protecting the environment, we will walk and share sanitary pads to girls in the area and also ensure one's health is taken care of," he said.
Alloys called on well-wishers to support the group that is out to make the environment and community health a priority.
Abdulmalik Fumbwe, also one of the Diani Walkers co-founder said that the morning Saturday walking is healthy and very important for one's health.
"We felt it is good we plant trees especially now that it is the rainy season. We appreciate all organizations that participated in that event because it is a step towards mitigating the effect of climate change,' he added.