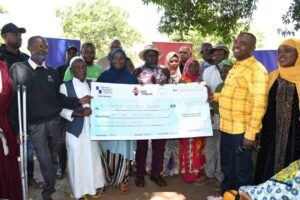 Base Titanium in collaboration with Msambweni Community Development Agreement Committee CDAc have launched an Economic Empowerment Fund aimed at financing start-ups and small enterprises in Kwale County.
The kitty that targets women, youth groups and persons with disability will be utilized to fund working capital for groups in Msambweni Sub-County through grants and interest free loans.
Msambweni CDA Committee Chairman Mshenga Ruga said this is a programmethat will help locals in the area to realise Base Titanium benefits.
"The aim of the empowerment fund is to create more business and employment opportunities for the community," said Mshenga Ruga CDAC chair.
He noted that access to capital has been a major hurdle for most business ventures in the area, Base Titaniumstepping in to help through CDAC.
Base's Community Programs Manager, Mwanaharusi Khamisi encouraged the community to take advantage of the fund to expand their local businesses.
She said that through the funds, locals will be able to support their projects and get economically empowered.