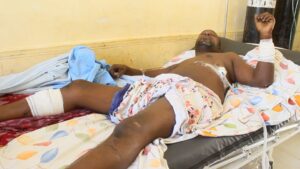 By Coast Times Reporter
Four people have been admitted at the King Fahd Referral Hospital in Lamu County after being attacked with knives and pangas.
In the first incident, three members of the same family, including two men aged 23 and 21 and their mother, are nursing serious injuries after being cut with a panga by two boys who live in the same neighborhood at Kandahari village of Lamu town.
It is alleged the attackers were in a revenge mission.
The attackers, while armed with pangas, invaded the home of the three and slashed them, leaving them with serious injuries in their hands.
In the second incident, Mohamed Aboud, a 53-year-old resident of Kijitoni village of Lamu town, says he was attacked by a gang of 20-year-old boys while returning home from watching a World Cup football match.
Aboud added that the gang was armed with pangas, knives and iron metals and that despite their big number, he was forced to fight for his life by fighting and disarming one of them.
He added that their goal was to rob him of money but unfortunately, he had only 50 shillings left in his pocket, which angered the attackers.
Langoni location area chief Haidar Ahmed has said that the suspects have gone into hiding, although he is hopeful that they will be arrested