By William Abala
A group of women can be seen cultivating the ground as the sun rises over the Mporoko swamp. They labor for long hours to support their families and are the backbone of this community. Many of these women have inadvertently contributed to the destruction of the wetlands because they are unaware of the advantages associated with safeguarding them.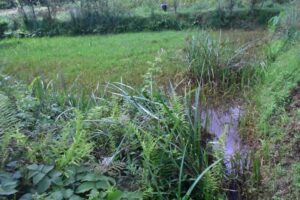 Cross-sectional view of Mporoko swamp/credit:William Abala
Kinyaa in Kenya would agree. She relies on farming wetland areas like the Mporoko swamp for her livelihood. The use of rivers as a main source of water has reduced due to the drying up of the seasonal rivers downstream, exacerbating an already dire situation.
"Due to prolonged hunger, I moved into the wetland to cultivate and fend for my family," she told me.
"I can sell part of my produce like nduma to raise part of my children's school fees during holidays," she says.
Mporoko swamp is part of the Tana basin of Kenya comprising several catchments that are endowed with diverse resources. It is within the Bwathonaro watershed, which is located to the East of the basin, contributing nearly 7% of the total runoff in the basin.
According to a publication done by AGWATA, J. F. (2005b): _Water Resources Utilization, Conflicts and Interventions in the Tana Basin of Kenya_, he states that in the watershed, there are about 45 water projects, but only 14 of them have licenses, and the rest are operating illegally.
The study further reveals there are several springs, the majority of which are not protected, and are additional potential water sources. The watershed also has several marshes, including Mporoko, which due to encroachment and degradation, has experienced reduced water inflows and outflows.
Although the precise extent and nature of the pollution in terms of loadings and characteristics are unknown, the degradation of the swamps has had an impact on the quality of the water in the springs and rivers.
The Bwathonaro watershed is a tiny catchment with an area of 150 km2 that is situated in Kenya's Eastern Province in the Meru North District. The lower portions of the watershed are located at about 700 m above sea level and the upper portions are located at approximately 2,050 m above sea level. The catchment receives between 700 and 1300 mm of rain annually on average, which is bimodally distributed into the long rainy season from March to May and the short wet season from October to December. Over the catchment, the yearly average temperature is about 18° C.
Kinyaa and her community rely on it for food, timber and business.
At some points in the year, the swamp suffers from extreme intrusion. At other times, the water levels dry up. Some years the lush green flora disappears, leaving a trail of devastation in the community.
As I made my way to the swamp, I noticed that it had changed considerably from when I had last been there.
Residents had encroached on the marsh and converted it to farmland since they were unaware of the advantages of maintaining it. In some areas of this marsh, eucalyptus trees had also been planted, endangering the catchment area.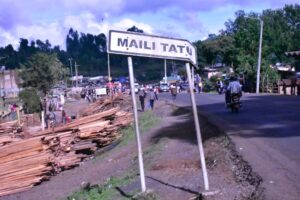 _Booming timber sales on the outskirts of Maili Tatu area, just opposite Mporoko swamp_ photo credits William Abala
As a timber seller, Julius Mung'athia, 25, makes a living by selling wood and timber products sourced from the wetlands.
As I spoke to him, he expressed his desperation, explaining that he had no other option but to source in the swamp.
"I have no choice but do business here. I have no land to farm on, and this is our only source of livelihood. If I stop sourcing my products from here, my family will go hungry." He says.
While protecting wetlands is crucial, it's also critical to recognize the need to strike a balance between conservation efforts and human reliance on these ecosystems for subsistence.
Wetlands offer crucial functions like flood control, groundwater recharge, water filtration, and climate adjustment.
However, they are also essential sources of food, medication, and supplies for nearby communities.
According to the first-ever Global Wetland Outlook Report by the Ramsar Convention, wetlands are critical to human and planet life. Directly or indirectly, they provide almost all of the world's consumption of freshwater. More than one billion people depend on them for a living and they are among the most biodiverse ecosystems.
Up to 40% of the world's species live and breed in wetlands, although now more than 25% of all wetlands plants and animals are at risk of extinction.
Sessional Paper No. 12 of 2014 of the Kenya Wetlands Policy obligates the state to put in place monitoring frameworks for the maintenance of wetlands integrity.
Although the Constitution of Kenya 2010 classifies wetlands as public land and defines that encroachment on them is a criminal offence, many actors have not shied away from encroaching on these lands.
The National Land Commission (NLC), which is the statutory body mandated with the management and preserving wetlands in Kenya, is therefore faced with the task of recovering and restoring these lands, an act which has proven very costly and time-consuming and led to numerous and perpetual legal battles and court processes.
Currently, according to NEMA records, there are about 1,000 active court cases in various parts of the country which relate to encroachment on wetlands.
As locals cut down trees and cleared vast swaths of wetlands to eliminate competition for scarce resources like arable land and catchment areas so they could feed themselves and their families or sell their farm products for a pittance, illegal logging and environmental degradation also increased.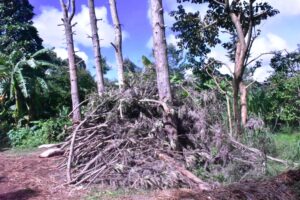 _Ongoing cutting down of trees within forested areas of Mporoko swamp_ photo credits William Abala
One of the farmers I get to meet is 42-year-old Lucia Mutia, who has a makeshift building in the swamp area and has tilled the land for over four years now.
First apprehensive and not willing to talk, but as I introduce myself as a journalist and in love with nature, Lucia confidently opens up and shares the story of this little swamp, which the locals call _erimba_ in their kimeru dialect to mean a place abundant with water.
"During long periods of drought, this is the only place where we can farm and get food because water is found in plenty concentrated on small patches within the swamp," says Mutia.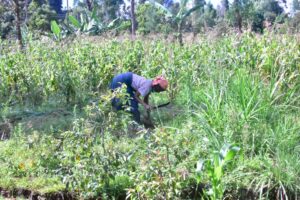 _Lucia Mutia, a farmer cultivating sections of Mporoko swamp to sustain her livelihood_ photo credits William Abala
Ironically, during some rainy seasons, particularly in the period of February to May, the swamp floods, forcing residents to plough in the higher areas of the swamp. "Water levels during the rainy seasons make the swamp inaccessible. The foot trails you see around get submerged in the water." Mutia says. According to her, the swamp becomes risky and inhabited, as landfills clog more waters and become deep and the presence of water-borne diseases also becomes more prevalent.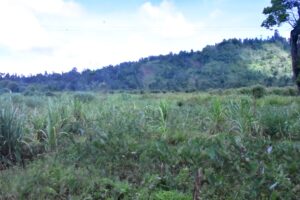 _Clogged surfaces of Mporoko swamp during rainy season_ photo credits William Abala
Mutia's family is heavily reliant on water from the swamp for domestic and farming purposes. Their small farm in their backyard is a manifestation of the arable land that Mporoko swamp provides. Smaller divisions of the farm have maize, beans, cassava and even khat (miraa) which is a plantation crop grown in plenty in the larger parts of Meru County. According to her, many residents cannot afford to put up alternative sources of income. Nonetheless, she says, she fears the impact of climate change could be severe in the coming years with the swamp attracting more residents to cultivate, destroying and cutting off trees to allow more space for settlement. Mutia tells Earth Journalist Network that many residents of Maili Tatu in Meru County depend on water from rivers, many of which are also drying up due to the increasing impact of climate change.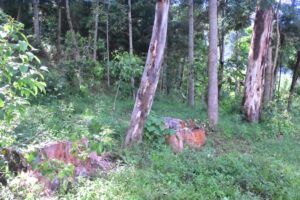 _Cut section of trees within Mporoko swamp lumped together awaiting transportation to the nearby local market._ Photo credits William Abala
Meanwhile, Mutia may be shielded from the adverse effects of biting drought and famine experienced in the larger parts of Meru county by the swampy forest, but Erastus Mutua, a youthful man who approaches us as soon as he sees a camera hanging on my shoulders, is aggrieved more.
Erastus greets us and listens for a few moments before offering to take me around the swamp.
"The wetlands in the area are seeing multiple effects of climate change. Due to migration patterns and customary settlement in areas that were once biodiversity habitats, the conflict between humans, flora and habitat loss is increasing daily," Erastus says, "especially to feed themselves and their families, more tracts of land will be cleared!" He goes on to tell me about the local conservation efforts from the indigenous Njuri Ncheke Council of Elders' initiative to the Nyumba Kumi security apparatus guarding the swamp.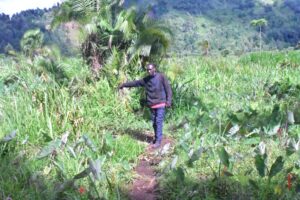 _Erastus Kinyua explaining the dangers posed by those degrading Mporoko swamp_ photo credits William Abala
Erastus is among the few people in this community trying to impart conservation knowledge to the many women and residents invading the swamp not knowing the climate change impacts awaiting them. "The need of educating locals about the advantages of protecting wetlands as well as the dangers of deforestation and excessive use of natural resources cannot be overstated," He says. To ensure that the community understand that conserving the wetlands is critical not only to their livelihoods but also to the environment, he singles out the Bwathonaro Water Resource Users Association (WRUA), which is a leading conservationist in the area and is engaged in fencing and planting thousands of trees to conserve the area wetlands.
Given the persistent intrusion by residents into the swamp, the management committee of volunteers running and managing the wetland, have no option but to fence sections of Mporoko swamp. "Destruction of the swamp is accelerated by human activity," says Erastus. According to him, the initiative to fence off areas of the swamp is paying off, as it cut off human interaction, making the plum areas beyond residents' reach.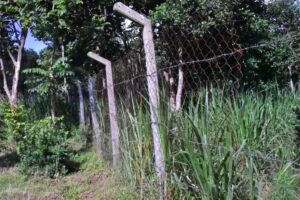 _Ongoing fencing work in the swamp to curb intrusion by residents. photo credits William Abala
Meanwhile, locals have also planted eucalyptus trees in parts of this wetland, which poses a danger to the catchment area.
Backed by a motion by Central Imenti Member of Parliament, the bill in the National Assembly seeks the government to order the absolute banning of planting eucalyptus trees and encourage the planting of indigenous species across the country.
It further orders the uprooting of all eucalyptus trees and replacement with other varieties of trees particularly indigenous species to ensure the conservation of water sources and preserve the ecosystem.
Additionally, the bill seeks to initiate the process of putting in place punitive measures against persons who defy the above orders.
"Couldn't agree more. The trees are a catastrophe, not just to the streams and rivers along where they grow, but their leaves also make it nearly impossible for other crops to grow," says Margaret Wanjiru, Kenya Forest Service Officer. "The real problem with eucalyptus is not how much water it takes, but how allopathic its leaves are. It dries all undergrowth such that when it rains there is little to slow the water to percolate. Water just runs off." She says.
Mercy Chepnge'etich Lang'at, an environmental law, policy and climate justice lawyer, cites concerns about the potential impact of eucalyptus plantations on riparian zone biodiversity.
Riparian zones are areas of land adjacent to rivers, streams and wetlands and provide important habitats for numerous species, including birds, mammals, amphibians, reptiles and aquatic organisms.
"Eucalyptus trees should not be planted in riparian or marshy areas because they are not adapted to wet conditions and can cause significant damage to the environment. They have shallow root systems that can disrupt natural water flows and cause soil erosion. They also absorb large amounts of water from the soil and provide little shelter or no food for wildlife, and their leaf litter can be toxic to aquatic species. Finally, they are highly flammable, which can increase the risk of wildfires in riparian and marshy areas," notes Mercy.
In order to steer the county's efforts in combating climate change and environmental degradation, Meru County has created the Climate Change and Environmental Action Plan (CEAP) 2019–2023 which acknowledges the value of wetlands as a crucial ecosystem for the supply of services related to water, biodiversity, and climate regulation.
The plan also offers methods for managing and conserving wetlands, such as fostering community-based conservation, upholding legislation that safeguards wetlands, and helping communities who live close to wetlands find alternate sources of income.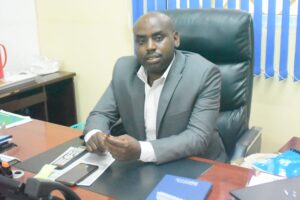 _County Executive Committee Member (CECM) for Water, Irrigation, Environment, Natural Resources, and Climate Change Eng. Jackson Munoru during an interview_ photo credits William Abala
Eng. Jackson Muthamia Munoru is the County Executive Committee Member (CECM) for Water, Irrigation, Environment, Natural Resources, and Climate Change in the county government of Meru.
So far, Eng. Munoru notes that the community's response to the restoration measures has been positive and they have held sensitization drives for the community in various parts of the watersheds.
"We are concerned about climate change and we have installed ward climate committees to come up with project activities for funding," says Eng. Munoru.
These committees will serve as platforms for community participation, consultation, and decision-making on climate change-related issues.
"They will enable us to tap into local knowledge, prioritize adaptation measures, and monitor the implementation of climate actions within each ward," adds Eng. Munoru. The government and the county of Meru recognize the ecological significance of the Mporoko swamp and the need to conserve it. "We are actively working to strengthen the enforcement of existing environmental regulations to prevent further encroachment and farming activities in the wetland. This includes raising awareness among residents about the importance of wetland conservation and the potential risks associated with its degradation," he says.
Investing in successful conservation strategies is expensive. Like the fencing program taken by the county government has stretched the budget, hence it's imperative that the national and international community, particularly those that deal with wetlands conservation, help finance conservation-related projects in low and mid-income countries.
Meru County's circumstance is simply one illustration of the numerous difficulties that wetland conservation projects must overcome.
In collaboration with relevant stakeholders, the county has formulated a Climate Change Act that provides a comprehensive framework for addressing climate change challenges at the county level. This act will ensure coordination, resource allocation, and effective implementation of climate change policies and strategies.
As our climate changes, it's the local, marginalized people who bear the brunt most. Molly, a climate specialist shares similar sentiments as Munoru. Not only will conserving wetlands tackle climate change, but also address social and economic vulnerabilities and burdens of weather shocks.
"Protecting these regions for their natural worth is crucial, but it's also critical to address the underlying social and economic problems that push people to use wetlands for survival." Says Molly Obong, a climate specialist.
That said, for wetlands and the populations that depend on them to survive over the long term, a balance between conservation and sustainable usage must be found. This calls for interacting with and comprehending the needs of the neighbourhood communities, supplying alternatives for alternate sources of income, and making sure that wetland management is fair and inclusive. Wetlands and the people that depend on them can only have a sustainable future if we all work together.
*This story was supported by Earth Journalism Network*