Kwale Governor Fatuma Achani has assured the youth of continued support in sports programs to help them expose and hone their skills.
Achani said her administration recognizes the different roles that sports play in cultivating discipline, perseverance and teamwork among the youth.
The governor said sports are key in promoting peace and unity and fighting drugs and insecurity.
"My administration will continue to provide the necessary support for sports activities and help youth realize their dreams and save them from the menace of drugs and substance abuse," she said.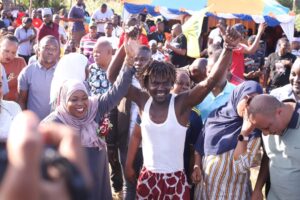 Achani said Kwale government will empower youth in various sports fields and help nurture their talents to a world-class level.
She said the county wants to transform youth and enable them to make good investments through sports.
Achani said she aims at creating a conducive environment for youth to thrive and build a safe and productive future generation.
She said the county cannot prosper and effectively realize its agendas when youth are not properly empowered and prepared for the future.
Achani said the county has constructed various standard halls in every ward which provide proper platforms for youth to practice and showcase their talents.
She said through the Department of social services and talent management, the county organizes various sports leagues and tournaments and cultural festivals to expose youth and support them in nurturing their skills.
The governor said plans to uplift the county sports are on a steady track as her administration works on improving infrastructure such as stadia and pitches across the region for the sport's development.
Achani said currently the construction of the multimillion Kwale stadium is yet to be completed which will uplift sports activities in the region.
She said the stadium is expected to host national sporting activities which will help in skills and socioeconomic transformation.
Achani said she is confident that mechanisms put in place by her administration will change sports fortune in the county.
"I have high hopes of taking sports to new heights and making Kwale great," she said.
She told youths to take advantage of their various talents to change lives.
Achani said apart from the physical health gains, sports can be tapped for wealth generation.
She said youth should take sports seriously and treat their skills like professions.
Achani said sports can be used as income generation and investment platforms.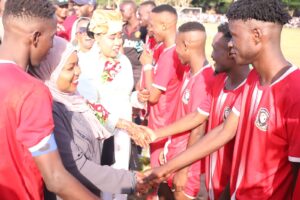 The governor said her administration will partner with various stakeholders to ensure talents are well nurtured and youth become self-reliant.
She spoke on Sunday while gracing Kwale's woman rep Fatuma Masito Golden Cup final at Mshale Ground, Tiwi Ward in Matuga Sub-county.
The tournament saw two rival teams Denmark and Kitivo football clubs from Waa Ng'ombeni ward tear each other on one nill goal.
The winner, Kitivo Fc walked away with sh100, 000 while Denmark sh50, 000 among other sports kitties.
Masito noted that sports remain the only platform to keep off youth from drugs and substance abuse and criminal gangs.
She urged the youth to try their luck in sports rather than killing their talents in the streets and sitting idle.
Masito said the county has got good leaders who love sports and are ready to support youth.