The county government of Kwale has called on the respective authority to shut down a makeshift GSU camp at Kazamoyo in Samburu sub-county.
The New development follows a last week incident where a 23-year-old man was allegedly beaten to death by GSU officers manning the area.
Deputy Governor Chirema Kombo said the GSU camp has caused more harm than good in the area.
"We want this camp to be closed within the next 24 hours and let the private developer park all the tractors until the issue is resolved," he said.
He alleged that the security officers are being misused to intimidate and harass residents over a land dispute saga.
Kombo said since the camp came into existence the area has witnessed constant tension as locals suffer at the hands of the GSU officers in the area.
He said the residents have been patient enough but their calmness is being taken for granted.
Kombo said the locals are always provoked and pushed to the wall fearing that they might one day get tired and reiterate if affirmative measures won't be taken.
He said it pains that each day, the county leadership has to deal with land injustices and listen to the same problems.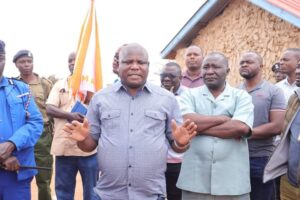 The DG said the time has come for the government and respective authorities to take action and put an end to protracted land injustices.
Kombo said the area GSU leadership and the culprits must be held accountable for the death of the young man.
"Whoever brought this camp has a case to answer as well as the officers who did this injustice," he said.
However, the County Police Commander Stephen Nge'tich said police have launched investigations to ascertain the allegations.
He said the work of police officers is to maintain law and order and anyone breaking the law shall face disciplinary action.
Ng'etich said the Independent Policing Oversight Authority and DCI are working closely with DCI and other security agencies to bring the perpetrators to book.
"Let me assure you, if our police officers are responsible then the necessary action will be taken and justice shall be served. No is above the law," he said.
He, however, called on the residents to maintain peace and cooperate in providing information that might help in investigations.