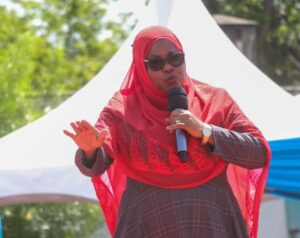 By Reporter
County government of Kwale is set to rehabilitate and construct new fish landing sites to effectively tap into the blue economy in the region.
The new development comes at the backdrop of complaints lodged by local fishermen that lack and poor fish landing sites have stagnant the growth of the fishing sector in Kwale.
Governor Fatuma Achani said her administration is working closely with the national government to have the fish landing sites improved.
On Friday Mining, Blue economy and Maritime Affairs Cabinet Secretary Salim Mvurya said plans are underway to develop modern fish landing sites along the coastal region from Lamu to Shimoni.
Achani said the landing sites will offer a breakthrough in the exploitation of the blue economy opportunities.
"The construction of the landing sites will boost the fishing industry and economic growth," she said.
She said her administration is committed to empowering local fishermen and transforming the fishing industry.
Achani said the landing sites will be equipped with cold storage facilities, handling equipment for processing and value addition.
The local fisherman have been relying on traditional fishing and storage methods that are ineffective.
The county chief said the cold storage facilities are set to minimize post-harvest losses and maximize profits.
"Lack of preservative equipment is causing our farmers major losses every day. The weather is hot and fish rot before they are sold," she said.
She said once the fish landing sites are developed will allow fishermen to store and sell fish at good prices.
Currently, most of the fishermen in rural areas are forced to sell fish at throwaway prices for fear of incurring losses due to lack of proper storage facilities.
Achani said the fishermen will be assisted with effective fishing gear to promote sustainable fishing in the region.
Many locals are still using traditional fishing nets and equipment that interfere with fish reproduction.
Achani said the landing sites will provide a convenient fishing environment for the local communities.
She said her administration is determined to empower beach management units across the county to strengthen the management of the beach environments and the growth of the fishing sector.
Achani said the landing sites will serve as sources of employment for the surrounding communities.
"The fish landing sites will spur trade activities that many families will depend on," she said.
The government has at the moment begun the construction of the Sh1.6 billion Shimoni fish port.
Achani said once the fish port is completed will be a game changer for the Kwale local community.
She said the port will enhance commercial fish trade hence the growth of the county economy.
Achani made the remarks at Tsunza in Kinango sub-county on Saturday when she led a mangrove tree planting exercise ahead of the world fisheries day expected to be celebrated in Shimoni.
The move was to help restore and conserve the mangroves in the area. About 1000 mangrove tree seedlings were planted.