Kwale County has been at the forefront of women's inclusion since the advent of the devolved system of government.
In the first term of county governments, Kwale set up two revolving funds, one for preferential groups to access business capital of up to half a million shilling and one for traders for the capital of more than half a million.
In 2021, The Institute for Social Accountability (TISA) launched an economic empowerment study to promote gender balance in public procurement opportunities, and one of the counties where the study was conducted is Kwale.
Kwale, a previously marginalized region, has made significant progress in implementing Access to Government Procurement Opportunities (AGPO) as stipulated under Article 227 of the Constitution. AGPO requires that at least 30% of all government procurement opportunities be reserved for enterprises owned by women, youth, and PWDs.
As Kenya plans to celebrate the tenth anniversary of devolution this year, 2023, it is critical to highlight efforts Kwale County under the leadership of Governor Fatuma Achani has put in place to promote women-led businesses (WLBs) as per the constitution, particularly around AGPO.
In a detailed conversation with Mr. Vincent Mbito, the County Director of Accounting Services, Finance, and Economic Planning, Kwale County spent approximately 2.7 billion on procurement from July 1st, 2022, to June 30th, 2023.W
Whereas the minimum value required to be allocated to AGPO was Ksh. 811.2 million, the county spent above and beyond, allocating an additional 14%, totaling 44% above the threshold set by the law.
During this period, AGPO contracts worth Ksh. 496 million were awarded to women, Ksh. 623 million to youth, and Ksh. 70 million to PWDs. Based on these AGPO developments, Kwale County women have experienced a positive shift in their lives.
In a stakeholder engagement forum held on July 14th, 2023, at Pride Inn Hotel in Diani, organized by TISA and attended County officials from 4 government departments led by the county attorney, women, youth, PWDs, and county representatives, Kwale women confirmed that devolution has empowered and equipped them.
The women expressed satisfaction with Kwale County's initiatives to improve women's lives by helping them form financial groups and companies, leading to socio-economic empowerment.
They however noted the need for more capacity building on business literacy and awareness creation by women who have so far ventured into AGPO opportunities.
Critical to the empowerment of women in Kwale has been the establishment of the County Attorney Office, which has put in place legal mechanisms to transform once considered women social groups to economically viable investment vehicles.
Coast Times established that, as of June 30th, 2023, the county had supported over 42 women groups through Village Savings Association (VSLA), to form companies.
Some of the WLBs formed so far include Ndavaya Women Enterprises, Kaskinda Enterprises, Makedise Enterprises General Supply, Chengoni Women Saving Limited, Tiwi Banat Limited, and Mackinnon Road Teamchele Enterprises just to mention a few.
Several WLBs, such as Chengoni Women Power Savings Limited, have already won AGPO tenders. Maselina Kwekwe from Chengoni Women Power Savings Limited Company shared her success story, emphasizing that many women are reaping big from the county AGPO tenders.
To this juncture, their company has already won several AGPO tenders, including the recent Ksh. 4.6 million for the construction of the Samburu Cultural Centre, which is an ongoing project.
The company was also awarded a tender worth Ksh. 500,000 for the renovation of the Sagalato-Kikoneni borehole.
"We are very happy that we can start realizing our dreams thanks to Governor Achani's administration. Our lives have improved and so is our financial stability," she said.
While adding that their company had also been awarded a supply tender worth Ksh. 200,000 from the Kenya Marine Fisheries and Social Economic Development (KEMFSED), Kwekwe explained that AGPO has really transformed their lives from rugs to riches.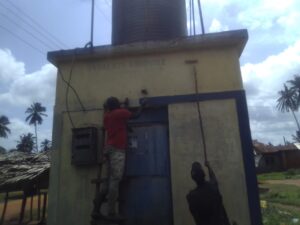 Sagalato Kikoneni rehabilitation of water tankby Samburu Women Power Savings Limited)
According to her, most women cannot access money through ATMs or bank applications, a dream that she, like many other women, had been envying.
"I never thought that one day I would work with the government and get money at my convenience," she said.
Like Kwekwe, Chadzumbe Mohamed is also a beneficiary who has won up to Ksh. 3 million of AGPO tenders.
"I started with supplies but now I am focusing on getting big tenders for construction. Without risking you cannot do business, so you must take chances," she said.
Mohammed said with the county's assistance, she was able to secure tenders and get paid on time, which has brought happiness to her and her family and made her a superwoman.
Mohammed said that most women fear knocking on the doors, but opportunities are available in the Kwale County Government, adding that her fellow women must brave up and take up their chances.
She said without having personal ambitions it is hard to succeed.
Mohammed said she is currently able to pay school fees, buy food and save the rest for development.
"Thanks to God, I am now a different person, I have money of my own without that means I am self-reliant," she said.
While indicating that it is true that women face great challenges in government procurement opportunities, she advised women to first commit themselves to bringing the change they want.
She said that there have been cases where men use WLB names to access AGPO.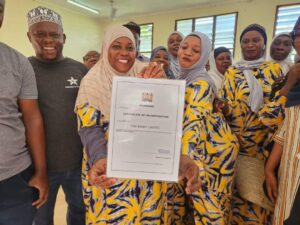 Tiwi Banat limited company members share a moment with Governor Fatuma Achani.
However, she noted that the county is doing its best to empower women and reduce or eliminate such challenges. Many other WLBs so far agree that the current Kwale County Administration has shown a high level of commitment in supporting WLBs.
County Executive for Social Services and Talent Management, Francisca Kilonzo, in a phone conversation with TISA National Coordinator during the dissemination of the study findings at the county, confirmed that all departments have signed a commitment to give monthly reports on AGPO activities.
Francisca said that this move is aimed to ensure women's empowerment is practically done in all the 11 county departments.
Acknowledging the good work that Kwale County is doing to include WLBs in county procurement opportunities, the National Coordinator for TISA, Ms. Diana Gichengo noted that the county must do more and double the number of WLBs currently participating under AGPO in the county.
Ms. Gichengo stressed that even as Kenya celebrates 10 years into devolution, women's economic empowerment remains an area that needs effective collaboration.  TISA committed to supporting Kwale County with developing manuals to help women and other preferential groups access AGPO.