At least 29 Kwale youth have been trained in coaching skills to boost football and talents at the grassroots level in the region.
The youth were awarded Diploma coaching certificates known as CAF-D.
The training was organized by a Kwale youth-based affairs NGO Samba Sports youth agenda in partnership with Base Titanium and FKF through a programme dubbed SHIFT.
The organization's CEO Mohammed Mwachausa said the program seeks to nurture talents and transform youth through sports.
He said they intend to get youth out of the wild streets to prevent them from joining criminal gangs and use of drugs and substance abuse.
"It's a one-year program meant to help youth identify their talents and find purpose in life," he said.
Mwachausa said they want to assist the youth expose their talents and find various sponsorship and opportunities within the realm of sports.
He said many talented youth have had their skills and life wasted for lacking the required support in growing.
The CEO said the program provides a good platform for youth to acquire both sports and life-based skills to enhance discipline and resilience.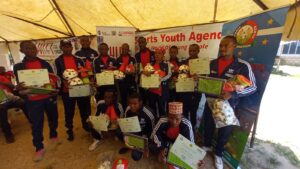 "The most import thing about this program is to capacity build youth, so that that they can train colleagues and young generation not just football but good virtues," he said.
He said the project also allows youth to grow their football skills and realize their dreams through friendly matches and leagues across the country.
Mwachausa said they are looking forward to impacting the young new coaches with value-based education to help in self-reflection, critical thinking and decision-making.
He said they will also be trained on child protection rights for optimal performance when dealing with minors in sports.
Confederation of African Football instructor and former Harambee Star assistant coach Musa Otieno said the training will enable youth work in the entire Africa.
He said the biggest challenge in Kenyan football is that people have become greedy and selfish.
Otieno said people don't want to nurture talents at the grassroots because they fear that they won't benefit.
"Many of us are reluctant to come to the interior because there is no money yet a lot of young people have good talents but lack support," he said.
The former Harambee star plate encouraged the young coaches to use their skills wisely and grow their football careers.
He underscored the importance of maintaining a high sense of discipline adding that it is the key to success in football.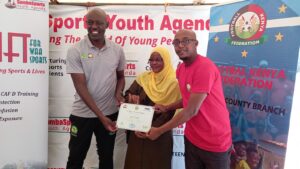 Kwale FKF chair Hamisi Mwakoja said the training will play a huge role in elevating football in the county as well as developing techniques and insights.
He said Kwale has a few trained and licensed coaches which has for many years stagnant the growth of soccer.
Mwakoja said within a short period, the county will have the best and most highly disciplined players because of the new coaching skills.