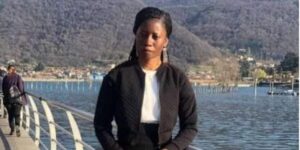 Mystery surrounding the death of a Malindi 36 years old Amani Justine Luwali after her body was received missing various body parts from Italy has deepened with human rights activists calling for thorough investigation.
Her body arrived in the country from Italy more than one month ago without some internal organs.
Luwali had been staying with her Italian husband in Italy since 2016 when they got married and gave birth to a girl.
Family members claim that her body had been concealed in a tamper proof metal box when it arrived at the Star hospital mortuary in Malindi town and they had to break it to view the body despite being warned not to do so.
Mrs. Josphine Mrima, the mother of the deceased said that her daughter had stayed in Italy for close to fifteen years and she first travelled there in 2004 after undergoing a heart surgery and came back before flying back to stay with her husband and at that time she was 18 years old.
"I don't know how she died and I don't even know if she was sick. I was just told by our friends from Italy that she was dead. The husband later revealed that she had died and a requiem mass was to be conducted and the body to be cremated the following day. I objected because according to our customs we don't cremate bodies and I ordered for her body to be brought back home," she said.
She added that the husband whose name is withheld pending investigations made arrangements and the body was flown to Kenya via the Mombasa International Airport but with instructions that the container carrying it should not be opened.
"After my objectio of cremation her husband promised to bring the body and when it arrived at Mombasa International Airport, we were told not to view it but I insisted that we must view it. The body was transferred to Malindi Star mortuary where the coffin was opened and we saw the body which was in a very awkward state," she said.
It is at that point, her eldest son took up the matter and reported it to the Marereni police station.
"I am appealing to the government to investigate this issue and bring the culprit to book. She is my sixth born and has stayed in Italy for at least 15 years," she said.
Mr. James Karisa, a brother to the deceased said that upon opening the body they were shocked to find that it had stitches all over and the eyes had been removed and replaced with plastic ones.
He added that they reported the matter at the Marereni police station in Magarini Sub County before conducting a post mortem that confirmed their fears.
The body had missing  heart, major blood vessels, kidneys, eyeballs and liver, a matter that the family want investigated before they bury the body.
"We learnt of my sister's demise on September 27 this year. We received a phone call from one of our friends in Italy that she was found dead in her house and we objected the idea of cremating her remains that is when arrangement were made to bring her home and the body arrived in Kenya on October 27 . A postmortem was conducted on November 3," he said.
Karisa revealed  that her sister had filed for divorce with her husband but the matter had not been concluded.
"When we talked in March this year, my sister had informed me that she had filed for divorce but her husband rejected the idea and he did not even show up for the hearings," he said, adding that she was still searching for a job at the time of her demise.
According to the post mortem report, the body was found with bloodstains on the nose and mouth.
"The appearance of the body revealed her eyes to be sunken but her eyelids were together. Under the cardiovascular system, the body was missing the heart, and all major blood vessels including the aorta were not there. Both kidneys, and patella of both right and left lower limbs, were also missing and bone marrow was extracted. Both her left and right eyeballs were missing and replaced by plastic oval objects," stated the post mortem report.
The report further stated that the cause of death could not be determined due to "missing vital organs such as heart, liver, both kidneys, and major blood vessels.
"It appears organ harvesting has been done. But her uterus and bladder were recorded to be intact," stated the report.
Mr. Mathias Shipeta, a director with Haki Africa organization, said that they will help the family get justice and called on investigative agencies and the governments of Kenya and Italy to help unravel what happened to Justin's body.
"We suspect there was foul play because the body was not intact since the vital organs were missing yet they are the ones we could have used to know the cause of death. We want thorough investigations done and DCI and Interpol should take up the matter, our leaders should also take note since trade in human body parts is gaining momentum in the world," he said.