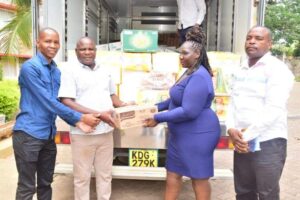 Veteran journalists Rashid Abdallah and Lulu Hassan have supported Kwale residents affected by drought after presnting their donations to Kwale county government through Rashid Abdallah super cup program.
Rashid Abdallah and Lulu Hassan are Swahili news anchors at Citizen TV who hail from kwale county.
The donations includes 500 kgs of sugar 2000kgs of rice,77bags of maize flour, 480 litres of cooking oil,500 pieces of leaves and 152 boxes of indomie.
The food will be distributed to the most vulnerable families in Lunga lungalunga and Kinango subcounties
While receiving the consignment,Kwale county deputy governor Chirema Kombo called upon other well-wishers to chip in and help locals affected by starvation.
"Let it not be Rashid alone ,we want other friends of Kwale to help our people who are facing starvation at the moment"Chirema Said.
On her part a representative of Rashid super cup Loiza Kithi said as organizers of Rashid Abdallah super cup they want to ensure that the locals in the county do not die of hunger as a result of prolonged drought in the county
She further called upon other well wishers in the country to give a helping hand especially to school going children who dropped out of school due to lack of food and water .
"At the moment our country is hit by drought and we can not depend on the government alone to address the situation, we have to join hands as Kenyans to help those in need of food and water,"Loiza said.
The Kwale county government is already putting up measures to mitigate the effects of drought through construction of dams and rehabilitation of water pans across the county.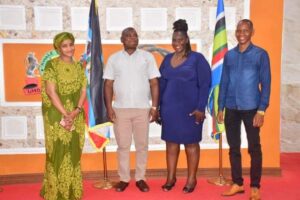 This is to ensure that residents have enough water for domestic and agricultural use.