By Alloys Musyoka
Sexual exploitation and women going for a month without bathing have been mentioned as one of the main challenges facing women in the artisanal mining sector.
Artisanal miners have called on the government and human rights organizations to intervene and save the worrying situation.
Speaking during a panel discussion on Artisanal and small-scale miners' perspectives on the mining governance in Kwale in the ongoing Jamvi la Madini Kwale forum, the miners said the situation is not good.
"We came to realize that there are women who engage in sex with minerals buyers to have their products bought while those who don't know the game remain with their stones," said one of the miners.
Shocking revelations were also made indicating small-scale miners especially in the stones and pebble quarrying are exploited by middlemen who buy Pebble at Sh5 per bucket.
Mwanaharusi  Mwafitina Ngo'mbeni Stones and Pebble Association chair said that the situation is bad as the price is always controlled by the buyers who sometimes refuse to pay after taking away stones and pebbles.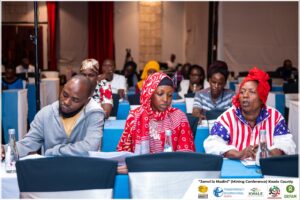 "Buyers can come to your quarry and tell you that they will buy stones at 18 shillings if you maintain you are selling at Sh20 he leaves and go to your neighbour and tell him that he will buy stones at 15 shillings and that is how they operate. Out of desperation, they exploit us," said Mwanaharusi.
She also raised issues with working conditions that are not good since they use their hands to prepare stones and Pebbles since they cannot afford machines.
"For now we don't even have a permanent land that we are sure to continue doing our work and therefore we are asking the government to help us," she pleaded.
She said that sometimes buyers take away their stones and leave without paying rudely.
Mwanaharusi pleaded with both levels of government to intervene and streamline the artisanal and small-scale mining sectors to the ensure price of products is controlled and the market is provided.
Jamvi la Madini Kwale forum the first ever that brought different stakeholders in the mining sector to discuss mining issues provided a platform for small-scale miners to raise their voices.
The forum was attended by the national government, county government, civil society and human rights organizations organized by Kwale Mining Alliance.
Tizha Sopai Abdallah said that there is a need to streamline the mining and selling of Silica sand by setting up prices.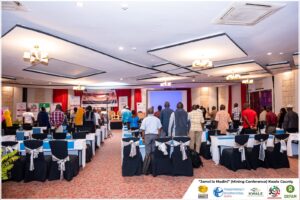 'The biggest issue is price and therefore we feel if how the sand is bought is controlled sand owners can benefit. We also want companies buying Silica sand to be forced to participate in doing rehabilitation of mined land," he said.
Kuranze artisanal miner representative Justine Mwakoi took issue with companies operating in the area, saying the majority mistreat their workers by not caring about their health and general welfare while at work.
"We have women going for a month without showering ower while at the mining sites because there is no water and this is because their working environment and welfare are not looked at. We need human rights organizations to intervene," he said.
Justine Mwakoi said that there is a need to involve all artisanal miners in decisions making to avoid issues as well as sharing of timely information.
National Environmental Management Authority Kwale director Geoffrey Wafula urged miners to follow laid-down mining procedures for rehabilitating mined lands.
He said that the law is very clear on rehabilitation which both small-scale and artisanal miners should know to avoid being caught up on the wrong side.
The Jamvi la Madini Kwale forum that started on Tuesday and ended on Thursday saw International Alert, Kwale Mining Alliance, Transparency International Kenya, Haki Madini, Natural Justice and OXFAM among other stakeholders participating.