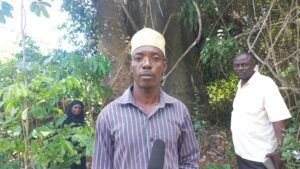 Shimoni residents in LungaLunga Kwale are protesting security officials harassment with gun threats as they fight alleged land grabbers in the area.
They claimed that the national government officials, land and local administration in LungaLunga is working in cahoot with their oppressors instead of helping them.
The Shimoni settlement scheme is our land but people are coming with title deeds of ownership while we are the people living here for decades," said Fadhili Abdalla 82 years old Shimoni resident.
He said that their land is at the verge of being grabbed by private developers settling in preparation for Shimoni fishing port take off.
Fadhili said that it is unfortunate that some of the security officials who are paid to protect locals are splashing before residents to threaten them to vacate from their land or be dealt with.
Sacred places which the community have been using for a long time to appease their gods have not been left out by those out to grab land in Shimoni accoridng to locals warning that they will be forced to take action to protect what is rightfully theirs
Fadhili claimed that over 500 people are being forcefully evicted with a section of police officials being used to threaten them day and night instead of protecting them.
They are calling on the president William Ruto through the cabinet secretary for land to intervene and save them from the jaws of land grabbers.
While showing some of the graves that their grandparents were laid at Nzuani in Shimoni, Fadhili said Kwale land office has been used to hand title deeds to tycoons.
"People come with title deeds to claim where we live is their land, its disgusting and very bad situation that we won't allow to continue," he said.
Makame Shee one of the traditional doctor said that one of their sacred places was grabbed with the remaining one being part of land claimed by tycoons in Shimoni.
He said that although he has permit for his work, he don't understand why tycoons are grabbing their land.
He called on the national museum to intervene saying the land grabbing cartels are heading to a dangerous zone by grabbing shrines.
"This place I am being told to leave by police and recently they came armed and warned that they will take me away forever if I continue using this place as shrine," he claimed.
Makame urged Kwale County government and national government officials to save shrines and museums from grabbing.
Also claimed to be at verge of being grabbed are youths friendly center and women hall according to Mwamboni Kirua. Kirua wondered why government was watching helplessly while its citizens are being terrorised right left and center by alleged grabbers.
Justice for restoration childcare organization chair Mohamed Mwakuyala called on president William Ruto government to take urgent action on the matter.
According to him the complaints have been tabled before all government offices but no action taken so far.
He said that police should not be seen threatening locals and instead protect them as it is happening in LungaLunga.
Issues around construction of Shimoni fishing port, he said is the reason behind alleged land grabbing cartels camping in Shimoni.
Issues of land grabbing in Shimoni and some parts of Kwale have been on the rise with the national government being blamed for failing to take required action to protect its people from being evicted by land cartels.