BY FLORA AWINJA
Mchekwisha Mangale, 42, holds the hands of her two young daughters as they head to a stone mine on a sunny morning in Shikamana village, in Diani, Kwale County.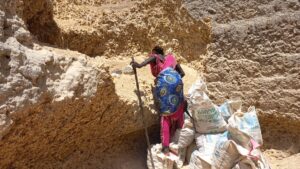 The mother of 10 will spend the whole day extracting ballast from the mine with the help of her children.
With a chisel and a hummer the minors sit on the ground under scorching sun hitting pieces of boulders and crashing them into ballast.
The struggle is in a bid to make ends meet for the large family.
As the sole breadwinner, Mangale, who lives in a grass thatched mud house, visibly on the verge of collapsing, is in this labor-intensive exercise due to lack of employment.
She says his husband's capacious intake of alcohol makes it difficult for him to take up responsibility for providing for his family.
"I know they have to go to school, but my situation makes it impossible. Now they have to accompany me so that we can get the most from a whole day's work at site," she said.
For many children between the age of five and 18, they are needed to be in school.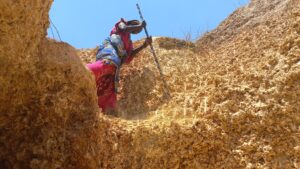 But increased poverty has pushed them in stone mines, where they crash the stones to earn money.
Mangale's children are not an exception, many others are accompanied by their parents who equally overlook the health hazard posed by exposure in the mining environment.
For them the aim is to fill as many bags as possible with the ballast to earn more.
"The income I get from selling one bag is Sh15. So, I have to fill up to 10 bags to get at least Sh150 which is not enough to feed all the children in a day and take them to school," says Mangale.
On the day of the interview with Coast Times, Mangale and her children were led out of the dusty stone mines by Gladys Mwakisha, a well-wisher who was providing food donations to her family.
Her face gleamed with joy that for the first time her children were not going to spend hours at the mine to later afford a packet of maize meal for an evening meal.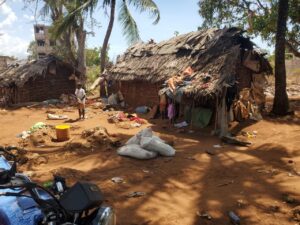 Mwakisha said it was important for the government to regulate the sector especially in mine sites where miners are exposed to dangers.
"The children's lives are at risk. They inhale dust and are exposed to the sun for long hours. They also get injuries which no one is keen on treating," said Mwakisha.
She urged relevant government authorities to set better working conditions and regulations in the small-scale mining industry to reduce exploitation of the workers.
Mangale's eldest daughter, Mwaka Mwangale, said stone rates at the mines should be reviewed to reduce cases of abuse of labour.
"My younger siblings are suffering yet they do not earn enough. I know that there are more dangers that they are exposed to. I would like to see them go to school," she said.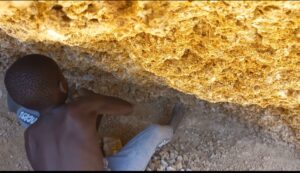 More well-wishers have been asked to come on board to save many children who miss school to work under dangerous conditions due to poverty.