Cabinet Secretary for Interior Kithure Kindiki has broken his silence over controversial Kilifi 'pastor' Paul Mackenzie's Good News International Church incident where 21 bodies have been so far recovered from Shakahola forest.
Mackenzie is alleged to have brainwashed his followers to fast so that they be able to meet their god once they die.
Kenyans from many parts of the country are believed to have been camping in the Shakahola area for fasting and prayers with many losing their lives on the way.
It is not clear why the 'pastor from hell' is still alive while his followers have died fasting and if he is preaching wine and taking water on the 'fasting to meet your lord' issues.
In his statement to the media, the CS said "The unfolding Shakahola Forest massacre is the clearest abuse of the constitutionally enshrined human right to freedom of worship".
He said that such incidents should lead to severe punishment of the perpetrators of the atrocity on so many innocent souls.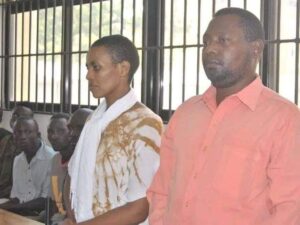 The incident may see regulations on worship areas being on the receiving end as Kithure also hinted at plans to tighten regulations including self-regulations of every church, mosque, temple or synagogue going forward to avoid such incidents in future.
"While the multi-agency security team is on-site doing their best to unearth the truth and prevent further loss of lives, I have directed the Coast regional Commissioner with the regional security team to enforce the team in Malindi ahead of my visit on Tuesday," he added.
He said that enough security has been deployed around the entire 800 acres of forest that has been sealed off and declared a scene of the crime.
Meanwhile the 'pastor' is said to have staged a hunger strike inside Malindi cells on Saturday after he refused to take water saying he is fasting and praying instead.
Police sources told Coast Times that the 'pastor' had not eaten since homicide detectives started marking gravesites and exhuming bodies of his alleged members, believed to have starved themselves to death in Shakahola.
On Saturday police carried out an exhumations exercise despite heavy rains pounding the Coast region during which several graves that had been dug up by around 4.30 pm bodies of five family members – a father, mother and their three children were retrieved.
The exhumation exercise that started on Friday has left Kenyans of all walks of lives shocked as more bodies have continued to be retrieved from the 800 acres of Shakahola forest where 'pastor' Mackenzie has been using it as fasting ground for his followers.
Police said that out of 32 suspected grave sites that have been marked for digging they were able to dig 12 with the remaining 20 sites being guarded.
On April 15 2023 'pastor' Mackenzie was arrested and placed in police custody after denial of the bond by Malindi High Court when he appeared before Malindi Chief Magistrate Elizabeth Usui.
The prosecution sought 30 more days to hold him as they complete the probe where he was arraigned alongside 13 others people in the case that will be mentioned on May 2.
Chief Magistrate Usui ruled that the cult leader remains to be in police custody for 14 days alongside six of his followers.
The other seven, who are victims described by the prosecution since they had refused to eat even while in police custody, will be held for seven days for counselling.
Meanwhile, Kilifi leaders led by Governor Gideon Mung'aro have faulted the national government for their continued arresting and releasing of the pastor over the issue every time.
He said that this time round the 'pastor from hell' should remain in cells and face prosecution for masterminding the deaths of innocent people.
"Courts have indicated that there has not been evidence to pin Mackenzie since there is no evidence to show that the victims died of hunger. We are telling the court that we have recalled our pathologist who is on maternity leave so that she can do the work. If the pathologist reports the issue the court should just jail the man because he has caused the death of many people, "said the governor.
Gender public service and affirmative action CS Aisha Jumwa asked the security department to ensure that the pastor is not left free for his safety.
"He has caused the death of many people he is not safe out here. And those of us who are protecting him we are asking our people not to allow anyone in those forests in the name of fasting or praying let us whip them," she said in Kakuyuni during a food relief distribution exercise.
Kilifi county commissioner Josephat Biwot urged families not to allow their people to attend such a ' church' adding that the suspect will be arraigned in court to face murder charges.
As all that continues to unfold, the country has not come to terms with the massacre of 21 people so far.
Questions that have remained unanswered by the authority include; where was Chief Raymond Charo since the cult operated right under his nose? Did those responsible to share intelligence reports do that about the cult? Who was benefiting from such a cult where Kenyans died and fail to act from the village chair to the top government organ?
Claims that 'pastor' Mackenzie Shakahola's church has been a no going zone with his followers being hostile to the extent they could kill to protect their master.
"There are people who tried to go there for a peace talk they saw fire. That place is guarded you cannot be allowed to go there," a source told Coast Times Digital.
LangoBaya police station is closest to Shakahola but the lack of proper facilitation and equipment makes it difficult for officers to discharge their duties only forced to depend on Malindi police station which is 80 kilometres away.
At one time Coast Times Digital has learnt that Mackenzie was chased away from the Bungale area where he had opened his church after locals detected his weird teaching.
Priscah Shida said that they chased him away after he told the community that people should not go to school, something they could not stomach.
"He settled in Shakahola where he continued with his weird sermons after we chased him away from Bungale," she said.
Investigations show that Mackenzie has been radicalizing his followers, some of whom are now being investigated for alleged horrific crimes, including starving and killing their children and later burying them in shallow graves.
His story started to hit headlines on 17/3/2023 when a murder incident report filed at Langobaya Police Station under OB Number 12/17/3/2023 linked the deaths of two children to the pastor.
Court documents show that the two, on advice from Mackenzie, had starved and suffocated the children, Seth Hinzano and Evabra Dito.
They are suspected of burying the two minors on March 16 and 17 in a shallow grave at Shakahola although the rogue pastor has so far distanced himself from the accusations, claiming that he stopped preaching in 2019 and is currently farming in Shakahola village, where he bought land and occasionally visits.
Religious leaders across the country have condemned the incident and called on the government to act swiftly and ensure citizens are protected from such people.
Nyeri bishop Anthony Muheria said that the time has come for the government to tighten its focus on screening registration of new churches and ensure it is not just done by anyone or everyone for the sake of it.
Deputy church leader of All Saints Cathedral Evans Omolo said that there is no time for the country to hide under the cover of freedom of religion and freedom of worship and instead hold every pastor accountable in such cases.
Malindi JCC Bishop Thomas Kakala said that the government should work hard to ensure the cult pastor is dealt with decisively.