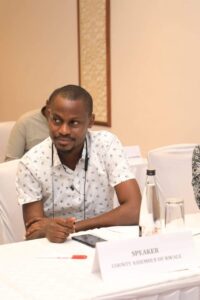 Storm is brewing at the Kwale county assembly after division emerged among members following disagreement on who should be appointed to the county assembly board.
The situation has left speaker Seth Kamanza at a cross road on which way to follow as claims that a section of MCAs threatened to impeach him if he fails to do their wish.
Sources who spoke to Coast Times Digital on conditions of anonymity said that there are no plans to impeach the speaker but admitted that there are issues being forced onto the assembly by the speaker.
"We feel that ODM is forcing us to accept Mariam Bindo to the board which we don't want. We have our choice for the lower region because in LungaLunga Eddy Chibu will represent them, MCA Victor Safari and speaker Kamanza represent Kinango, we have deputy clerk Fatuma Mwalupa representing Matuga and that is why we want another person from Msambweni and not Mariam Bindo, that is the biggest issue," said the MCA.
According to a section of MCAs from the lower region, they had picked Sharifa Mwamzandi to represent them at the assembly board, presenting their choice which they say speaker Kamanza did not agree with them.
An MCA from Kinango who spoke to Coast Times Digital said that ODM is fighting hard to have Mariam Bindo at the assembly board, a move they will not allow for reasons better known by the law makers.
Sources further said that some politicians are behind the hullabaloo to paint the speaker in a bad image so that he can part ways with Governor Fatuma Achani and consequently initiate a motion of impeachment, but Kamanza said there is nothing to worry about the rumor being peddled in the social media.
But speaker Seth Kamanza told Coast Times Digital that the issue is a mere rumor saying there is nothing like that.
His sentiments were echoed by minority leader Tumaini Mwachaunga who said that it is not true that a section of county assembly members are planning to impeach Kamanza.
"I am the minority leader. Do you think I can plan to impeach him? That is pure propaganda by some people who have their own motive," said Tumaini.
On Monday Pongwe-Kikoneni MCA Mohamed Mwaduga said that the assembly will soon be approving vetted county executive members despite having dragged the issue for a long time but speaker Kamanza who has accompanied Governor Fatuma Achani in all national events has remained tight lipped about the matter.
There are claims that a section of MCAs are out to stop all first governor Salim Mvurya CECMs from serving in the Fatuma Achani administration, a claim that has not been verified.
Kwale county assembly clerk Fatuma Mwalupa said that the assembly appointment committee is within its time limit to act on the vetted list.
She told Coast Times Digital that the committee has not yet tabled its report before the house.
"The law says once the committee is done with vetting, it has 21 sitting days to complete the report and table it before the whole assembly house," she said