A family in Mrima area of LungaLunga constituency are in dilemma after their 14 years old daughter went missing without a trace on 3rd January this year.
According to the family, Margret Stephen, a class seven pupil at Mrima primary school only speaks in Baganda, Arabic and English, her mother comes from Uganda and she is only three months old in Kenya.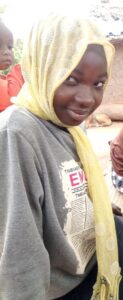 His father Jacob Stephen  said that her daughter who arrived in September last year from Uganda where her mother lives after they separated 14 years ago left their home in the morning while going to fetch water.
"She came to my room and asked me to give her my shoes so that she can go to fetch water. That was the last time we talked," he told Coast Times Digital when we visited his Mrima home.
He said they have been looking for her in every place in vain including hospitals and villages along the LungaLunga highway where she was spotted heading to Tanzania.
While not regretting accepting her in Kenya after 14 years separation with her mother, Jacob said she had asked her mother to take her to her father and that is how they organized her travel to Kenya.
"We went to some parts of Tanzania looking for her because we thought she had sneaked into the neighboring country. She had been spotted at Perani along the highway and we feel she might be somewhere," he said Jacob.
Jacob said that his daughter has no friends apart from him adding that she is not social.
He took issue with police who he said are not helpful in the search for his girl.
"They are telling me to continue looking for her and report to them if I find her. I wonder what type of help is that. Through the area chief we have escalated the information all over. We are pleading to the government to do anything possible so that my daughter can be found," he said.
He however said that his daughter has a problem that sometimes makes her behave abnormal for some time.
'When the condition happens to her, she talks to nobody until she gets back to her senses. I suspect the condition led her to leave as she was going to fetch water. I just hope she is fine wherever she is," said Jacob as tears dropped.
Mary Mwambaji the girl's grandmother, said she did not know why Margret left without saying a word.
"We found the Jerican she had carried at our neighbor and that is why we got worried and started looking for her. She had told our neighbor that she was going to her father's business while in the real sense she had left her father at home," said Mwambaji.
Mary said that after reporting to the nearest Mamba police station and LungaLunga, they have continued looking for her in vain.
"We are appealing to anyone who sees her to report to us and the police, we are disturbed. We did not differ with her or anything bad to warrant her to run away," she said.