BY FLORA AWINJA
A section of minority groups in Msambweni and Lungalunga Sub-Counties have opposed the results of the recent elections of the community development agreement committees (CDAC).
They want the cabinet secretary for mining Salim Mvurya to halt the gazettement of the committees and the exercise repeated.
One of the minority aspirants in the Msambweni CDAC, Peter Ndung'u, said the exercise was unfair as only one village out of a total of 15 voted in the exercise.
He said residents of other villages were locked out of the venue where the election was taking place.
"Only Mwambalazi village voted in the exercise and it is not a minority village. This means there was a hidden agenda. We as the minority will never be able to raise our voices to be heard, even if we try so that we can grow and help ourselves, there's always someone who wants to step on us and render us helpless" said Ndung'u bitterly.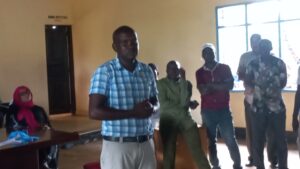 Ndung'u added that the Cabinet secretary Mining should not gazette the results.
"We would like to ask Mining CS Hon. Salim Mvurya to please not gazette these results until all parties are involved and the election is repeated," he said.
Rose Thomas Akisa from Mangwei village said that she cannot fathom why the Makonde community was being sidelined and deprived of their right to vote.
"Why are we being denied our right to participate and elect our leaders? We came with our IDs but the chief said he didn't know us. We came here to elect one of us who will represent our needs but we have been denied. We want the exercise redone" Said Akisa.
Pius Pesa, another Makonde community member from Mangwei, said he was surprised that they were told that there were no elections after sacrificing their time to go to the venue.
He said almost 1000 people from the minority group were locked out of the voting venue.
"Those who have voted are not even the minority in question, we the minority are the ones who were locked out. We even don't know the criteria that were used to declare the winner," said Pius.
He said there was no transparency and fairness in the exercise.