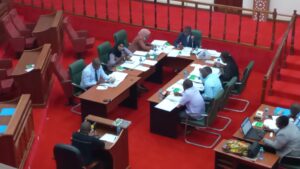 Transformation of tourism by exploring new sleeping giant's tourism circuits in Kwale is among things that the new Kwale tourism CEC Ali Mondo is up to if approved by the county assembly.
Mondo presented his documents before the six county assembly appointment committee members led by speaker Seth Kamanza laying down the foundation for his plans on why he is best placed for the job.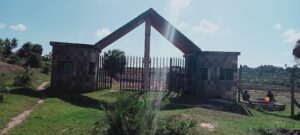 Majimoto hot spring which attracted the investment of previous governor Salim Mvurya regime through the first county tourism CEC Adan Sheikh resurrecting during the vetting as Mondo said he is ready to ensure tourists find their way to the area by improving the area.
Already construction work is still going on with the place having been fenced, Monday told the committee that Majimoto is a sleeping tourism giant that is his first agenda once he gets to office.
The historical Kongo Mosque that has Africa, Madagascar map near it that can be exploited as one of the nest tourism circuits to ensure good flow of visitors in Kwale, Mondo said his office will put efforts to bring it out.
"These are just some of the areas I am committed to focus on that have the potential of changing the tourism face of Kwale," he said.
Mondo blamed 2015 Somali returnees in the area for increasing insecurity and bringing down tourism as well as delays at the Kenya ferry for tourists to cross to Kwale coupled by Covid19 saying that his department will work with security to reclaim the lost Diani tourism glory.
"The Diani beach road street lights and having enough security guards along the beaches throughout day and night is my priority while working with security organs to ensure tourists are safe and can feel the warmth of being in Kwale for holiday," he told the committee.
Mondo, a man who has been doing community work and representing youths in different capacities had his ample time with MCAs convincing them why he fits well in the shoes of a tourism CEC for Kwale county and why they should not have a drop of doubt as they draft their recommendations.
In about 45 minutes Mondo took the stage responding fluently and explaining vividly how well he is the man for the job to the committee.
Construction going on at Majimoto spring in LungaLunga

"This is my job, I was born in Diani and brought up there. I know every corner of this county and all the areas that need the Tourism office's attention to transform this county in the next five years," he said.
If approved Mondo, a simple man who you could mistake him for during political campaigns in a youth's dens, enjoying his miraa with youths to a normal person but seated there was a degree holder, a professional getting down to resonate with the masses.
His appointment has left many surprised as governor Achani went for the simple person from a village to represent his area, something they did not expect.
Competition for the job was high as businessmen in Diani had fronted several known hoteliers.