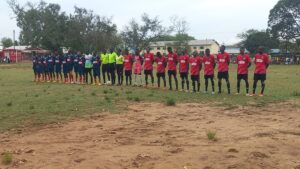 Denmark FC from Maganyakulo has qualified for the 1 million Rashid Abdallah super cup tournament final after beating Raising Stars from Waa 6-5 penalty goals.
During their 90 minutes match no team kissed each other goal forcing them to go for penalties.
Denmark FC will face it off with  Sunday match winner between Lazium FC and Buster FC in a game that will be played at Waa primary school.
The  tournament sponsored by Mozak betika involved 16 teams from Matuga constituency.
Denmark fc captain Hassan Chicho said that the game was of the tough they have encountered their opponents adding that they will do their best to practice for the final game.
He said that they did not score during the 90 munites since their opponents had prepared to face them but were lucky for the penalties that placed them ahead.
Raising stars FC Coach Suleiman Said is optimistic of winning third edition of Rashid Abdallah super cup after losing the first edition and second.
"First edition we lost at group stage and the second semi finals and therefore I am sure next edition we will get to the finals," said.
He noted that the tournament has enabled youths to showcase their talents in football which is something that should be maintained.
Denmark FC are the defending champions after winning the first edition.