Kwale County recorded the first rare community led blood donation initiative by Diani Walkers where over 70 units were donated after a five kilometers walk.
The aim of the exercise being to ensure that blood banks in the area have enough units to save lives.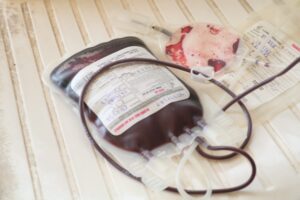 Diani Walkers secretary General Malik Fumbwe said that the initiative was aimed at ensuring members with patients' blood requests are assisted.
In Kenya seven people require blood transfusion every 10 minutes with experts saying more community blood donation initiatives should be done to help get enough blood in the country's blood banks.
Daini Walkers a passionate community in Daini, keeping fit through walking and having fun a step for one health organized the blood drive in collaboration with Red Cross Kwale, County government of Kwale, Base Titanium, Damu Kenya, Kentaste, Kwale International Sugar Company and Teens Watch.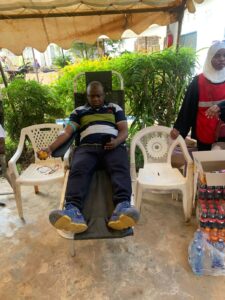 Patients in need of blood in Kwale County got a major boost after at least 70 blood units were collected during a major blood drive organized by Diani Walkers
The community-led donation, a first of its kind got over 150 members showing up in a selfless mission to donate blood under the Diani Walkers Blood Drive.
This is after the Kwale Blood Bank highlighted that it was yet to achieve enough quantities of blood in the bank, which comes in handy for dialysis patients and mothers during delivery as well as accident victims.
Diani Walkers secretary general Malik Fumbwe said the initiative was aimed at ensuring patients in need of blood can easily access it.
He said Diani Walkers, a registered community based organization in Kwale County had consisted of passionate Community members walking for One Health. A new concept that entails ensuring good health for human beings, animals and the environment for a better planet.
Malik said that the benefit of blood is to know blood groups so that any time there is a blood problem members can get to know who can help who easily in Kwale since the data is available.
Diani Walker's deputy chair Alloys Musyoka said that the initiative was long overdue and that more will be organized to ensure the blood bank in Kwale has sufficient blood for all.
Alloys added that the Diani Walkers blood drive is one of its kind that made him feel fulfilled because he is sure women giving birth in need of blood will be saved.
"It is very traumatizing to see your loved one fighting for his or her life in hospital because of lack of blood and that is why when I told my friends let us mobilize members to donate blood and they accepted I felt accomplished. I will continue giving blood in honor of all those who came to give blood to save my wife's life," said Musyoka, also the Coast Digital CEO.
Among the blood donors during the event were Thomas Olaba who donated 71 times.
He called on Kenyans to develop the culture of donating blood to save lives instead of waiting when they are in trouble.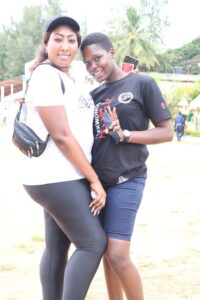 Kwale blood bank requires a 1 percent of county's population which is 8000 units annually which the authority says that they have never reached their target.
Every day the blood banks use 70 units for patients requiring blood transfusion.
Kwale county health chief officer Hamisi Mwashando lauded Diani Walkers for organizing the event saying blood is a very critical component in the health department.
"We have never reached the needed target and that is why we really need such initiatives to ensure we have enough blood for our people in hospitals," he said.
Kwale Red Cross coordinator Mohamed Mwaenzi, said that the exercise was long overdue adding that they will continue to partner with Diani Walkers for more of such to donate blood.
"We are told that a teaspoon of blood can help a kid and therefore this initiative is very important," he added.
Head of Kwale blood bank Rocky Jumapili, said that the exercise involving the community is one of its kind and in line with World health organization on one health section  where the community owns the exercise.
Rodgers Chimega, the chief advisor Mining and Blue economy who also donated blood said it was such good to see the community come together to donate blood to save lives.
Diani Walkers member Lydia Paul who donated blood for the second time in her life said that they feel good since they have been walking for health.
"We have been walking for health and today being our 30th edition we are giving blood as a way of helping our people in Kwale, we have had issues of lack of blood and that is why Diani walkers organized this thing," she said.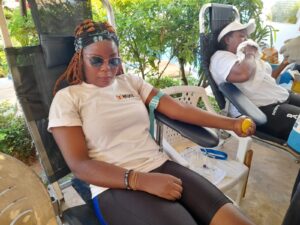 Allan Omondi, also a Diani Walkers member, said that the exercise has helped them to save other people's lives, being his first time to donate blood.
"I am excited to participate in this exercise for the first time," he said.
Sharifa Ambale who also donated blood for the first time said she was happy to be part of the exercise to save lives.
Elizabeth Kariuki said that it was evident after donating blood they felt fulfilled because automatically many lives will be saved in hospitals.
Kwale Bodaboda chair Nehemia Kinyua noted that the blood donated will go a long way in helping bodaboda operators who are in hospitals after being involved in road accidents.
One of the staunch Diani Walkers members Ali Namatsi encouraged locals to join the Diani Walkers group and walk on Saturday for health purposes apart from donating blood.
Marion Kamu the youngest Diani Walkers who donated blood urged youths to inculcate the culture of donating blood so that hospitals can have enough blood.
Joyce Kamau, also a Diani Walker member and a business woman in Diani, expressed her excitement of donating blood saying that many lives will be saved by a single action of donating blood.