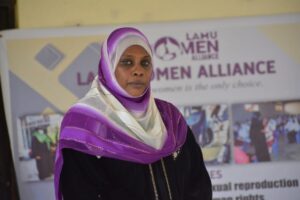 By Lamu Reporter
Issues of drug abuse, joblessness and mental stress have been named as some of the reasons behind increased cases of sexual and gender based violence in Lamu County.
Cases of sexual abuse against young girls are said to be increasing o an alarming rate in the main land within Hindi location in Lamu, with stakeholders raising a red flag on the matter.
Speaking in Lamu, the director of Lamu Women Alliance (LAWA) Raya Famau, said that most girls have been abused by their parents.
Lamu Women Alliance is a consortium of 11 locally women organizations in Lamu, mostly dealing with empowering women economically and also handling gender based violence issues.
"Some of the male parents have been sexually molesting their daughters, to the extent of impregnating them for a long time but no action has been taken against them," she lamented.
She blamed the community for hiding the cases with some bribing the victims' families so as not to follow up on the case.
Others, she said, allegedly bribe the police and court officials.
"It is the worst thing we are experiencing and we fear for our future generation", she complained.
Famau asked the community not to solve such cases in Kangaroo courts since the victims never get justice.
The latest reported incident involved a 12-year-old girl from Hindi who was defiled in turns by her biological father in collaboration with his friend.
It is reported that the girl has been silent on the issue for a long time.
"There is a disappointing case where a biological father collaborated with his friend and sexually abuse his daughter but the father has now been arrested", said the director.
Doctors' examination has revealed that the child has been abused for a long time although there is no direct evidence to implicate the biological father because the girl had an old perforated hymen.
"There is no evidence to implicate the biological father because the act has been happening for a long time. If things like this happen, we should take immediate action to go and report to the police and seek treatment if the evidence is still fresh, otherwise cases like this will not go far", warned Miss Famau.
Issues of parents sodomizing boy children was also raised with mothers being blamed for giving the matter a blind eye for fear of raising children alone if their husbands are imprisoned.
"It is due to this situation that many cases have remained hidden despite mothers being aware and capable of resisting the dirty acts done by their husbands against their children," he said.
Despite the government being ready to legally face the suspects of sexual abuse, she said that there is a need for cooperation between the victims' families and government departments to give justice to the victims.
"The government is ready to help us as a society, but we should stand up and condemn these dirty behaviors and also leave the marriage because the man is not fit to stay with your children, and we should not wait until he impregnates your children," she advised.
"Many cases are not reported and when they are reported, people intervene and bring the influence of religion, politics, and ethnicity and even bribe the victims to silence them. Incest cases and other sexual and gender based violence cases are highly reported in Hindi", added Famau.
As a way of ending sexual violence, Famau has emphasized the need for harsh legal punishment for the suspects.