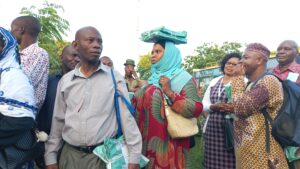 The Kenya Certificate for Primary Education and Kenya primary school assessment education exams has kicked off well in Kwale County.
Exams distribution exercise to various primary schools started on Monday morning from 6: am during the official opening.
In Msambweni education director Abraham Nyamawi and deputy county commissioner Lotiatia Kipkoech supervised the exercise.
However unlike previous exams this year primary school teachers were forced to carry more than they are used to because of the KPSEA exams for grade six pupils.
"This year's exams are unique, we are going to school with a lot of luggage of exams not for KCPE but KPSEA which is grade six," said a teacher.
"I dint know we are having too many exams. How will I carry all this? "Said another teacher.
Coast Times Digital has learnt that there are schools with only 13 KCPE candidates and more than 100 grade six candidates.
This has however not affected the security planning for the examination exercise since every examination center has been assigned two security officials.
Msambweni education director Abraham Nyamawi said that there are about 8,966 candidates siting for their final exams in the area.
Out of the 8,966 candidates, he said that there are only 4,353 KCPE candidates while 4,613 candidates are sitting for grade six exam.
"We have about 86 exam centers within Msambweni constituency. We have started the exercise well with all exams getting to school on time accompanied by security officials," he added.
He said that transport for the exams, teachers and security officials has been well coordinated to ensure there is no delay by candidates to start their exams.
Coast Times Digital is also yet to ascertain the identity of a class 8 candidate who is doing her exam at Msambweni referral hospital.