The campaigns to market Kwale county historical sites that are sleeping economical giants kick started as Maingu Digital Tv and Replay Legendary Pictures showcased a documentary to the public during the first Kwale county heritage tourism day.
The event that was supported by the county government of Kwale, Kenya National Museum of Kenya and Leopard beach Resort among other stakeholders and likened to the Lamu county cultural week will increase tourism revenue in the area.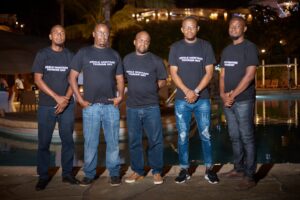 If well utilized the different heritage sites which includes World War 1, old Swahili buildings, colonial establishment and Kaya areas among others will see Kwale generating good revenue out of it.
According to the Director Ali Maingu Digital TV Ali Maingu, the person behind the idea, many nations across the world get a lot of revenue from their heritage.
Some of them include World War 1 and World war 11 memorial graves at Mkongani, Precolonial Arab or Sultan rule at Gazi,Shimoni and Mkwiro island as well as river Luvindoni which is flowing upwards against the gravitational rule among others.
For a long time, tourists have been visiting Kwale for the best beaches but Maingu says highlighting the areas will be a game changer in creating lucrative tourism circuits for hoteliers.
"We only managed to highlight 7 historical heritage areas but more are going to be focused in the next event set to be in August 2023 including 100 years of Waa boys' high school after it was built," he added.
National museum of Kenya Coast region deputy director Athman Hussein who attended the event said that Kwale County is rich in heritage with many of the areas remaining unknown and not utilized.
"We have kayas, old Swahili buildings, First World War and colonial establishments from Likoni to Lungalunga areas that have not been highlighted despite the fact that Kwale occupies a big space in terms of tourism," he said.
Kwale county government has already invested in Sh10 million Maji moto Eco Resort at Maji moto hot spring in tapping the cultural heritage space according to Tourism Chief officer Anthony Mwamunga.
The resort, he said will be used by tourists visiting the area to see Maji moto hot spring and hence generating income to the county government and community around.