The first historical Community Development Agreement Committee life came to its dead end on 28 February 2023 after a period of three years.
Base Titanium mining company has been submitting millions to the community committee in Msambweni,Likoni and LungaLunga for development projects that are community centered.
The committee membership was Gazetted in February 28 2020 and has so far implemented various development projects including, water, roads, schools, and health and education programs in the three constituencies.
In early 2021, Base Titanium operationalized the CDACs by inducting members and facilitating a negotiation process that culminated in the drafting and generation of the development agreements between the license holder and the community.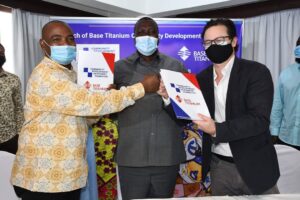 The first assignment of CDACs included public consultations with the community where the latter proposed the kind of projects they wished to be implemented in the various villages.
The report of this process would inform part of the community development agreements that were later formalized in a ceremony presided over by the Cabinet Secretary of Petroleum and Mining on 24th May 2021.
According to the law the committee has a three years operational life after which a new one is put in place through community elections.
The government through chiefs and assistant chiefs in Likoni,Msambweni and LungaLunga have informed locals to start mobilizing to elect new members to the CDA committee.
In LungaLunga subcounty the committee membership is restricted to Bwiti settlement scheme where Maumba-Nguluku locals were allocated land.
There were efforts by the outgoing committee to have an extension of one year because they did not operate in 2020 because of covid19 but their proposal was not considered.
However locals have welcomed the move by the government to announce the end of the first committee term saying they are ready to pick their best for the critical platform for development.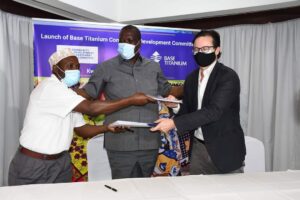 Regional mining geologist Fredrick Wafula said that communities have a chance to for the second time elect another committee to run their development affairs from the funds pumped by Base Titanium Company.
Nguluku-Maumba farmers CBO youth representative Mwanapili Salim Fingirika resident said that they are excited to elect their representatives since they are now fully aware of what the committee entails.
"This time round we are ready and we are going to pick serious people who will implement development projects that are community centered, 'she told Coast Times Digital.
Nguluku-Maumba farmers CBO member and a resident Peter Ndung'u said that the committee is critical in implementing community centered projects and therefore requires likeminded people from the community to represent them.
Human right defender and Live Green CBO founder Alloys Musyoka told Coast Times that locals affected by mining will be able to choose their representatives once the election is announced.
He said that time has come for communities to focus on electing a new team that will ensure community development oriented projects are implemented.
"We have seen a lot taking place for the two years' term and it is the expectation of the community that more will take place by putting into good use the 1 per cent annual company's benefit that will be remitted to CDAC," he said.
The ministry mining will gazette the three years term committee membership after the election that is supposed to be supervised by the sub-county deputy county commissioner and regional mining director.
The committee is composed of 13 members who include Governor, national government administrator, county assembly member, women representative, a village, two representatives of the youth of either gender, human right defender, marginalized group, disability member, area MP and three representatives of the holder.