By Coast Times Reporter
Kwale county local interfaith network has called for peace and enhanced security as people celebrate their Christmas and happy new festivals in the region.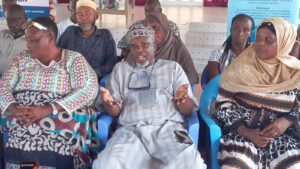 The new development follows a raised concern over the increasing insecurity cases in the county.
The religious clergies led by the chair of Kwale Women of Faith Network Emaculate Mungai said there is need for heightened security since juvenile gangs are growing wild causing terror among the residents.
"We are concerned about insecurity cases in our county, of concern is the killing of two young boys in Waa/Ng'ombeni due to the gang's rivalry," she said.
A week ago, a fierce battle ensued after two juvenile gangs from Kombani clashed with another from Maganyakulo.
The clash resulted in the loss of lives of two people and several other locals were hurt.
Mungai said various areas in Diani, Tiwi and Kombani have experienced burglary and robbery activities.
Last week, a group of young criminal gang broke into boutiques and shops stealing money and other valuables in Darling area within Diani.
At least one suspect was arrested by the police and is helping with the investigations.
Mungai spoke in a press briefing during stakeholders meeting at the Kenya Assembly of God Church in Ukunda.
The forum was conducted under the umbrella of the Inter-Religious Council Of Kenya mainly to discuss the current security issues affecting the county and possible interventions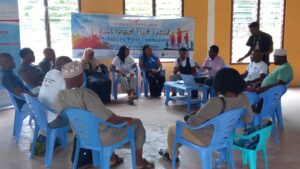 IRCK is a national coalition of major faith communities in Kenya consisting of Muslims, Christians and Hindus.
Its mandate is to mobilize unique resources and moral values of faith communities for a common action towards a shared concern through structured dialogue and fellowship.
Mungai emphasised parents to be on the lookout and monitor their children's behaviour and the people they interact with during the festive season and December holiday.
She said poor parental responsibilities are to be blamed for the escalating insecurity in Kwale hence parents should take a key role in raising their children.
"We call upon parents to keep a close eye on their children, especially this festive season and engage them in meaningful activities," she said.
National Muslim Leader Forum Kwale chair Sheikh Amani Hamisi said it is sad that girls are now becoming part of criminals in the region.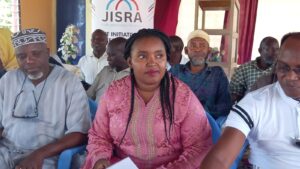 He said some girls are used by criminals to ferry drugs and weapons through their small handbags.
Amani said the girls also relay information on the possible night weddings and discos are, for their male colleagues to take part in crime.
"Surprisingly, a youth gang can travel all the way to Lunga-Lunga from Denyenye to terrorize locals in a wedding and the informants are no other but some of the ladies in that ceremony," he said.
He said in many motorbike theft girls are responsible because they are used as bait to pounce on their targets.
The sheikhs said security agencies should be on high alert and arrest the criminals and end juvenile crime as well as boost security ahead of Christmas and new festivities in the region.
The religious leader urged parents to tighten their belts in raising children with good moral values and keep them out of criminal dens.
Member of the National Council Of Churches of Kenya and Women of Faith Network Zipora Nyawera said lack of religious education among children is to blame for the increasing youth indiscipline and insecurity in Kwale.
She said parents are pampering their children and keeping them away from God.
Nyawera said that single parenting especially for young mothers is promoting criminal activities and teen pregnancies in the county.
She said many young mothers travel to middle east countries leaving their children with jobless grandmothers or family members.
Nyawera said some of the girls forget their responsibilities forcing their children to look for alternative means of survival and end up in gangs and menace of teen pregnancy back home.
NCCK member Pastor Geoffrey Wanyoike said as religious leaders they intensify peace campaign drives in churches and mosques to enhance unity and peaceful coexistence.
Ends