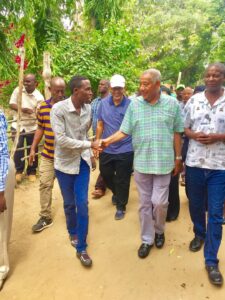 By Coast Time reporter
Lamu county pioneer governor Issa Timamy of Amani National Congress (ANC) is back from the cold after defeating incumbent governor Fahim Twaha of Jubilee party.
Timamy clinched the seat with 24,196 votes as Twaha garnered 16,054 votes.
While accepting the mandate Timamy pledged to come up with a special development plan to ensure locals in the county benefit from his administration in his first 100 days in office.
His priority, he said, include health, education, tourism, fishing, and agriculture, among others for revival plans once he gets in office.
Others who contested included Eric Mugo Kinyua who got 2,151 votes and Umra Omar Bwana 7,556 votes
Timamy also pledged to ensure all incomplete projects are worked on for the benefit of locals to avoid wasting taxpayer's money on white elephant projects.
"My administration will do a survey of all projects across the county so that as we settle, they can be completed, because they use taxpayer's money and not personal funds,' he said.
According to Timamy, residents played a big role in ensuring he recaptured the seat that he lost five years ago adding that the region suffered from shortages of drugs, food and water in most hospitals and dispensaries.
"Within my 100 days in office, I will ensure that hospitals are well-equipped with drugs and personnel to serve Lamu people for access to quality healthcare, "he added.
He maintained that his administration will revive all festivals in Lamu and ensure Lamu Old Town is rebranded as the Island of festivals.
" November we will be marking the Lamu Cultural Festival and therefore I am welcoming everyone to come and experience the destination," he said.
He said that Lamu is a safe and tourism destination that all visitors should feel free to visit from domestic to international markets.