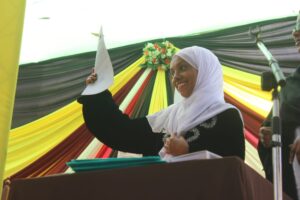 By Benard Yaa
Seven new Lamu County Executive Members (CECMs) were on Tuesday sworn into office after being unanimously approval by the county assembly.
The swearing-in ceremony was held at the Mkunguni Square in Lamu Town and presided over by Governor Issa Timamy.
Among those who took the oath of office are former Lamu Governor, Issa Timamy's Personal Assistant, Mohammed Mbwana Ali, and former Deputy Governor, Eric Mugo's Personal Assistant, James Gichu.
Mr Mbwana holds the Finance, Budget, Strategy, and Economic Planning docket while Mr Gichu is the CEC member for Agriculture, Irrigation, and Food Security.
The other five CECs sworn in are Tashrifa Bakari Mohamed (Lands, Physical Planning, Urban Development, Energy, Water, and Natural Resources, Infrastructure, and Public Works), Owanga Sabastian Aduong'a (Education, ICT, Gender, Youth Affairs, Sports, Community Development, and Social Services), Faiz Fankupi Abushiri (Fisheries, Blue Economy, Livestock, and Cooperative Development), Aisha Abdalla Miraj (Tourism, Culture, Trade, and Investment), and Mbarak Mohamed Mbarak (Health Services, Sanitation, and Environment).
Governor Issa Timamy said that the county executive committee members will be on a two year contract to see how they will perform.
He warned to fire those who will fail to perform.
" During my first term as the Governor, I did a mistake of employing  executive committee members in a five year contract and some did not deliver to citizens expectation," he said.
He also called upon the Health committee executive member Mbarak Mohamed to ensure that he deals with the issue of lack of medicines in public hospitals.