Senate Speaker Amason Kingi has appealed all politicians from the Coast region to unite in preparation for the 2027 general elections.
His call come even before the 2022 general election dust is not yet settled.
Speaking during a fundraiser in aid of the construction of the St. Andrews Anglican Church of Kenya (ACK) church in Malindi town on Sunday Kingi said that the area is better placed to benefit if all its elected leaders are allied to the government.
More than Sh. 7 million collected in aid of the church during Kingis' first public address in  Malindi since he was elected the Speaker of the Senate in August.
He was accompanied by Kilif Deputy Governor Florah Chibule, Malindi MP Amina Mnyazi, retired Kenya Defense Forces (KDF) officer Anthony Thariru, Malindi town ward MCA Rashid Odhiambo and a host of other present and former MCAs.
" If we don't unite politically as a region, we will be divided and lose our strength. We are too divided as leaders from the region because all parties from ODM, PAA, Jubilee, Wiper and any other party and we are a cocktail hence when we reach Nairobi we fight each other in the senate and national assembly," he said.
"We will reach 2027 and it is not that far and we must ask ourselves how we will put our house in order. There is no joy in sitting in opposition benches and Hon. Amina you will tell me two years down the line. Let's lead our people into government where services are because the opposition is for keeping the government in check but services are offered to those in government," he said.
"I have told senators from the region and I told them I will be there to advise them on the right political route come 2027 because we want to see all our elected leaders to sit in government," he said.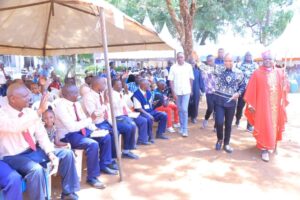 Kingi said that the National Government Constituency Development Fund (NGCDF) will be entrenched in the constitution alongside the Senate Oversight Fund (SOF) that was being pushed by senators to enable them to have a fund that will help them do their oversight roles smoothly.
"There are areas in this country that first saw development through the constituency fund and as Amina poke it is true that her office is always flocked with people demanding for bursaries and she also can't fulfill people's needs using her salary. I spoke to my National Assembly counterpart Moses Wetangula and agreed that there will be a joint committee this coming week from the national assembly and the senate to look into the NGCDF and the SOV so that the two bills are entrenched in the constitution," he said.
"I urge you not to push these MPs so much because currently they don't have a fund to help you," he said.
MP Mnyazi had called on Kingi to intervene and have the NGCDF bill fast tracked since many people were currently suffering including learners who depend on bursaries.
"I visit my constituency office every Friday and I see constituents crying to me about bursaries but I don't have any alternative but I am sure come next year the NGCDF law will be in place and our people will benefit," she added.
She also called on area leaders to pull together and support nominees for the East African Legislative Assembly (EALA) who hail from the region.
"I understand Mr. Speaker, I am on this side and you are on the other side but help us rally together for the benefit of the region. In other areas Ho. Junet and Hon Duale are from different political parties but we don't see them fight because they are joined by tribe and religion," she said.