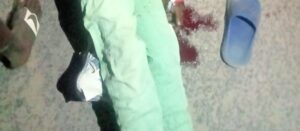 By Malindi reporter
A Malindi Bodaboda was on Thursday night allegedly killed by drunk police in Malindi amid investigations.
The shooting incident is said to have taken place at Malindi Airport police barrier.
Those who spoke to Coast Times Digital painted a picture of a situation that has left the area tense.
Operators in the bodaboda industry barricaded the airport road bringing transport in the area to a stand still for hours.
The incident prompted irate bodaboda operators to start pelting stones at the police.
Police were forced to shoot in the air to send away the angry operators baying for the blood of police involved in the killing of their own.
"Our colleague picked the police at one of the drinking joints and took him to his place of work. It is here when argument started and we believe the police refused to pay our colleague before he shot him," said one of the eye witnesses.
The Mijomboni resident in Gededied on the spot.
While Malindi deputy county commissioner Thuo Ngungi has said the investigations into the matter has been launched locals have condemned the incident saying those responsible must face the full force of the law.
"We want nothing less than the responsible police to be arrested. We are talking of life lost that cannot be recovered," said one of the bodaboda.