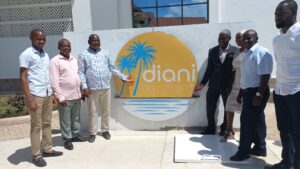 By Alloys Musyoka
While driving along the Diani beach road on your way to Kongo mosque, a new baby that has been growing beside the busy road is finally here at "DIANI PALM RESORT HOTEL".
With a Sea views, Diani Palm Resort is located in Diani beach road with restaurant, 24 hours front desk, bar, garden, year-round outdoor pool and children's playground
Fenol Romain, the director of Diani Palm Resort hotel had no plans to come up with such an investment in Kenya all the way from America but his general manager after meeting in Kigali-Rwanda convinced him to have visited Diani.
Romain described Kwale as his home saying it is a wonderful place to be.
"He encouraged us to visit Kenya and when we came he said we should think of investing and we had to. Kwale is very wonderful and excellent. I call this home once I set my feet here," says Romain.
The hotel has a capacity of 53 rooms with several doubles rooms and two apartments for families on vacation.
"We target local's visitors and international visitors as well. You don't have to make a reservation, just come and our people will find a way of accommodating you. We have local Swahili dishes and international foods for any visitor, anyone coming here will be happy," adds Romain.
Such investment coming requires a conducive environment which Kwale deputy governor Chirema Kombo says that Governor Fatuma Achani administration has put in place to attract investors.
"Recently we participated in the official reopening of Pride Inn Hotel and as we open the Diani Palm Resort Hotel many others are coming up," reiterates Chirema.
He adds that their administration is at the forefront to protect business and investments as they focus on opening beach roads and lighting the beach road.
"We are working with all stakeholders to ensure that visitors enjoying their holiday in Kwale are safe and that is something the county government will fully participate in, " he assures.
Apart from the best beaches in Diani, Chirema points out that Blue economy wonders are new frontiers where holiday makers can focus and consider exploring while in Kwale