LungaLunga MP Chiforomodo Mangale Munga has warned NG-CDF officials against engaging in corruption while issuing bursary forms to locals in his constituency, saying that those found will be fired.
Mangale said his leadership will not tolerate cases of parents being asked to pay for bodaboda transport or giving money in exchange of bursary.
There are claims that some parents have been asked to pay a certain amount of money in exchange of bursary with others being asked to pay for bodaboda transport.
"In our area you were told to pay Sh2000 for you to get 5000 bursary," said one of the residents.
While launching a bursary mashinani program at Tswaka and Bendo in LungaLunga constituency, the MP said that parents looking for bursary have nothing and therefore they should be assisted instead of being asked for bribes.
He assured LungaLunga people that they will experience the changes they voted for on August 9 2022 by electing him since he will ensure all students who apply for bursary are awarded unlike before.
"That will be the difference between this regime and the previous one. We are focused on about 5000 day-scholars and marginalized groups because the county government is sponsoring those in national schools and universities," he said.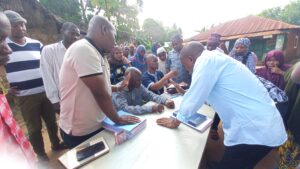 Mangale said that his administration will increase bursary allocation from the previous Sh35 millions to Sh60 millions so that every student in the area benefits.
"We want to tap the potential of all students in day school so that they can learn and realize their dreams.Form ones will have their turn once they get their calling letters," he said.
The MP added that even students in boarding will get bursary support in a bid to ensure all needy students realise their dreams.
He said that the exercise of filling bursary forms will continue in all the four wards ahead of school opening dates.
This came as parents appreciated the move saying it is one of its kind that they did not expect.
Athman Abdallah Jamanda, a parent from Mwananyamala said that he has never seen such a thing of bursary forms being brought to the villages.
Nyawa Bora, said that "My son is joining form one this year but I have never seen what we have seen today since the times of MPs Ali Mwamzandi,Marere Mwachai, Omar Zonga, Abdallah Ngozi and Khatib Mwashetani. The bursary mtaani program by MP is long overdue".
Janet Yawa, said that it is now easy and affordable to have bursary forms unlike before adding that parents have every reason to smile because it is something that has never happened.
Mohamed Bemasika, according to him it is like a dream because, "we have had many MPs but this has never happened'.
Nasoro Mnyetto from Tswaka said that since devolution 10 years ago they had been forgotten but Mangale leadership has remembered them.
"We have every reason to celebrate because we have been remembered. We have a leader who is considering the lowest person," he added.
Marinda Iddi told Coast Times that "We are happy because the bursary will ensure our children do not stay at home".