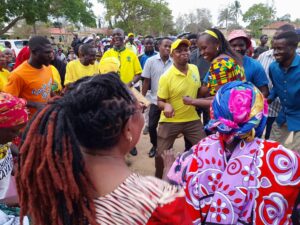 By Coast Times reporter
It is not easy to win a tightly contested race in a general election. It is more difficult when running against an incumbent in a crowded race.
Kwale county has shot to the limelight after an MCA election in Kinango ward in Kinango constituency proved the weight of just one vote, yes one vote.
One vote gave victory to Richard Itambo who is now the Kinango Ward MCA elect.
Itambo vied using United Democratic Alliance (UDA) party ticket and trounced his main opponent, incumbent Alfred Bavu of Pamoja African Alliance (PAA), with a margin of only one vote in the just concluded general election.
The 36-year-old father of two was making a third attempt to the position after unsuccessfully vying in 2013 and 2017.
He describes the one vote as a magic vote that saw him emerge victorious in a race that had attracted 16 contestants.
Itambo garnered 1,547 votes against his closest opponent Alfred Bavu who got 1,546 votes.
"In the concluded election, we won with a margin of one vote. That is a magic vote and it means that every single vote is very important" Itambo noted.
When he ran in 2013 the margin between him and the winner was 300 votes.
He never gave up. He made the second run in 2017 but still was defeated with a margin of 57 votes.
The third bore fruit after changing his campaign strategies.
"This time round I made sure I campaigned in every village where all the polling stations of this ward are found" he said.
Several of his friends who are registered voters of Kinango ward but were outside the county came through as they had to travel long distances to go and vote for him.
"I have friends who travelled from Meru and Nairobi to come and vote for me. We also made sure that my supporters who are elderly and those who were in hospitals went to vote" said Itambo.
He describes his feeling after winning as heroic after flooring 16 contenders.
"If you win with a margin of about 500 votes, you may feel as if the race is easy but with a margin of only one vote you are definitely a hero" he added.
His wife, Catherine Nduku, was an important pillar in his campaigns and she never left his side until the last lap of the race.
"We used to go to every village. I also had a group of intercessors who we used to fast together and meet for prayers every Friday after work" she narrates.
Itambo now has a huge task to fulfil campaign promises he pledged to the electorates since he will face them again when he will be seeking a second term in 2027.
"Itambo's win has made us proud because we are looking up to him as our role model. He tried several times and never gave up," said Raphael Mrinzi.