By GPS
Kwale Deputy Governor H.E. Chirema Kombo has urged the people of Kwale to respect their leaders and support them in their development agendas.
Addressing Kasemeni Ward residents while issuing bursary cheques worth Shs 3.3 million to university and college students from the ward, Chirema said campaign time is over and the people should now focus on development.
Commenting on the drought situation affecting several parts of the county, the Deputy Governor assured the people of Kwale that soon relief food distribution will kick off.
"We are currently working closely with the national government to ensure that our people get food aid. As a county government we are also using our water bowsers to distribute water to severely affected areas," he said.
Chirema stated that the county government of Kwale is also planning to construct more dams to curb the water shortage problem facing many areas.
"We want to make sure that the water problem in the county is solved. For instance, here in Bofu Village Unit we will soon invest in the construction of a Shs. 200 million dam," he added.
On matters education, the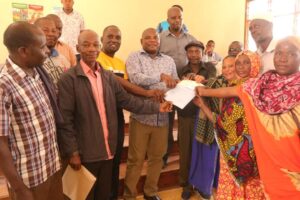 Deputy governor Chirema Kombo while issuing bursary in Kinango[/caption]
Deputy Governor urged parents in Kwale to prioritize girl-child education as a way of empowering girls and women in the county to take up leadership responsibilities in society.
He was accompanied by the Economic Advisor, Office of The Governor Anthony Yama, Kinango Sub County Administrator Benedict Kutto amongst other county government officials.
Also present was Kasemeni Ward MCA Victor Safari Nyanje.