A coastal-based youth affairs organization Samba Sports Youth Agenda has partnered with the Australian Mining firm Base Titanium to train, nurture talent and support income-generating activities through sports in Kwale County.
The project is being implemented under the SHIFT program which intends to actively engage youth and drive them away from crime, drug abuse, teen pregnancies and other social vices.
Previously, the region recorded a spate of insecurity cases where youth hunted one another disrupting peace and tranquillity.
Speaking during the graduation of 25 youth from Waa trained as referees, Samba Sports Youth Agenda CEO Mohammed Mwachausa said the initiative is part of the commitment to use local sports to restore peace and security and promote tolerance among youth.
He said the program seeks to recruit youth and provide a better platform for them to explore and focus on talents and enhance their resilience towards crime and drug abuse.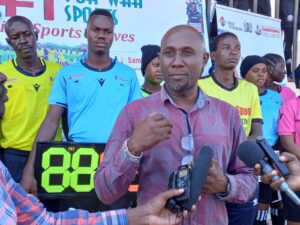 "As you are aware we have had a lot of insecurities involving youth and we came up with this program to bring them together for better change," he said.
Mwachausa said through sports the youth are being equipped with core values and skills to assist in realizing their full potential and living decent lives out of the streets.
He said drug abuse has negatively affected youth and destroyed the dreams of many talented young people.
Mwachausa said with such programs, the youth get the necessary advice and empowerment to realize their goals and become responsible members of the society.
He said they commenced training the first batch of 30 youth who were awarded Diploma coaching certificates and now the second batch of 25 youth who graduated as referees and assistant referees.
The youth involve both males and females to enable equal empowerment and fair competition in employment opportunities.
He said the youth have been provided with match officiating kits and other equipment to support their profession.
Mwachausa said the program plays a key role not only in nurturing talents and fighting crime but also in ensuring youth have a sustainable income.
"There is a lot of demand for certified coaches and referees because football leagues are many across the country and this will provide jobs for our youth," he said.
The CEO said several youth have already been hired to officiate county and national football matches and are making a good income.
He said the program also seeks to raise awareness of women in sports and fight myths and misconceptions.
Mwachausa said the community still misjudges and alienates women in sports.
He said people perceive female footballers as indisciplined and lacking cultural values.
Mwachausa said that some of the girls graduating in various sporting activities will change the perception and increase women's involvement in sports.
He said the program tries to educate both girls and society that football is a profession that can be practised by all to transform lives.
Mwachausa urged the community to bury outdated traditions and cultures that impede women's development and give them equal opportunities to showcase their talents.
Kwale FKF Director General Shaban Mwero said the program is crucial in nurturing talents and promoting local football at the grassroots level.
He said it has provided a platform for both girls and boys to explore their skills professionally.
Mwero said more girls have also come out and embraced sports, especially football.
He said the recently graduated youth will supplement the increasing demand for match officiating workforce in the region.
Kwale FKF secretary Shilingi Fumbwe advised the youth to make good use of the skills to transform lives and improve local soccer.
He said the youth should advocate for peaceful football matches by creating awareness of new football rules and regulations.
"Football has been involved and new laws are applied but youth fail to understand that because they don't know," he said.
One of the beneficiaries Bintiomar Juma Changu hailed the program adding that it has changed her life.
Changu said she is happy that the program has given her a rare opportunity to pursue her football passion.
Hamisi Mwanzino said the training has helped him get the required skills and documents to realize his dreams.
Mwanzino said he will apply the skills professionally to boost local football and improve his living standards.