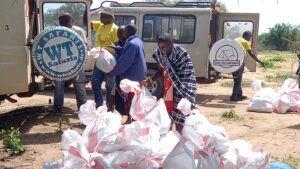 By Kwale Reporter
Hundreds of hungry Nyango residents in Kinango, Kwale County have a reason to smile after receiving relief food from the Kwale Tourism Association.
Kwale was reported to have more than 200, 000 people facing severe hunger. Kinango and Samburu locals are the most affected.
Nyango is a semi-arid area and among the hard-hit villages by the dry spell of Kinango.
The starving residents received maize flour, beans, rice, Omena, sugar and sanitary pads and soaps to help women maintain good menstrual hygiene.
Locals often complain of urinary tract infections and skin diseases because of poor hygiene for lacking water.
They have to trek for long distances to get water at a higher price. The locals are forced to skip baths for several days to balance the situation.
KTA chairperson John Baya said the food is expected to sustain the locals for a week.
He said as tourism stakeholders they understand better the pain of hunger as they went through a similar situation during the outbreak of the Covid-19 pandemic.
Baya said the initiative is part of their commitment to support the government in ensuring no Kenyan starve to death.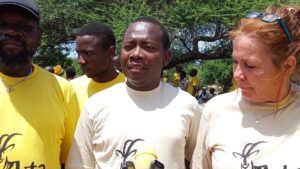 "We realised people in this area were forgotten and required immediate help and that's why we came to assistance to show solidarity," he said.
Baya called on more well-wishers to respond to the Nyango people's plight adding that they are suffering a lot and the food rations brought by KTA is not enough.
He also advised the county and National government to come up with permanent solutions to solving the perennial drought crisis in the region.
"The government should at least sink boreholes to get water for domestic use and irrigation," he said.
Regina Daudi, a mother of six is one of the beneficiaries whose smiley face had faded because of hunger but thanks to the ration, hope was restored after months of sleeping on an empty stomach.
"I can't explain my happiness, this is the first help we get. May God bless the people behind this," she said.
According to her, the food relief normally ends at the neighbouring village of Vigurungani which is some kilometres away.
It is almost a day's journey if one has to walk on foot and sh1500 to and from, by motorbike.
Daudi said none manage to travel as the trip is tiresome. They can't walk because of the heightened hunger and can't hire motorbikes due to financial constraints.
She said most of the time the locals are struggling to get at least a meal per day.
"Things are tough, if you get breakfast and supper you are very lucky," she said.
She said some of the children had started to show signs of mulnutrition for lacking a balanced diet.
Daudi said before students break for their December long holiday, teachers were complaining that children were less active in class and sleepy amid learning lessons because they don't feed well.
The rations also included a separate package for children where mothers received nutritional baby porridge flour, milk and sweets to help them recover and enhance their development growth.
Although the area received little rain for the last three days, Daudi said it is not enough to cool the prolonged drought and appreciated KTA for the food rations.
Locals from other villages also swarmed Nyango village after getting wind of the food relief exercise rendering the food inadequate.
Another Jeniffer Yeyo said she is delighted for getting food.
She said until she got the rations, her family didn't know where to get another meal after drinking porridge in the morning.
Yeyo said the drought situation in the area caused great destruction.
She said since they are livestock keepers, they lost most of their animals to drought last year.
Mwangolo Dudu lamented that elephant attacks have also surged in the area because of drought.
He said the elephants uproot anything they find on their way endangering the lives of the locals.
Mwagolo said at least three people are nursing serious injuries after two elderly men were badly wounded on their heads and a woman broke her leg after being attacked by elephants.
Ndavaya Assistant County Commissioner Charles Musila said the locals are truly affected by hunger but the government is also making efforts to cushion them from the effects of drought.
He said several food distributions have been made in the drought-hard-hit areas and more help is expected to reach the affected residents.
Musila said that elephants have been raiding the village terrifying locals but the security agency is working closely with Kenya Wildlife services to contain the animals.
"It is true the animals come from Kuranze ranch but we are working hard to address the problem," he said