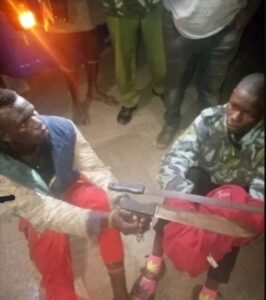 Kwale police have made a major breakthrough in the fight against juvenile criminal gang from Mombasa that is slowly sneaking in the area after two of them were arrested at Kombani.
Two others escaped as police pursued them after they defied orders to stop at Kombani toad block.
The machete wirlding juvenile criminals were on a motor cycle when they were arrested and several pangas recovered.
They are Kasim Salim Yaa and Waziri Hamisi Kodza. Military jacket belonging to the kenya navy, a motorcycle registration number KMGA 863W and two pangas staffed under the riders seat were recovered.
Kwale county police commander, Joseph Kinyua told the Coast Times Digital that police officers while manning a roadblock at Kombani around 2215 hours intercepted a speeding motorcycle which was carrying four passengers defied orders to stop instead veered off the the road.
He said that it is at that point where Kasim Salim Yaa aged 17 and Waziri Hamisi Kodza aged 22 years were arrested and placed in custody pending arraignment in court.
During the incident, Kinyua said that two other suspects escaped with police continuing to investigate the matter.