Kilifi County governor Gideon Mung'aro has launched  a modern fire station at Sh. 125 million in a partnership programme with the World Bank.
The station will help combat inferno incidents  by helping in firefighting services in the area. 
The project that sits on a one-acre piece of land in Kilifi town, with the World Bank investing a grant of Sh. 96 million.
Kilifi county government pumped Sh. 29 million into the project as well as procuring four fire engines that will be distributed to Watamu and Mtwapa municipalities.
Kilifi Governor Gideon Mung'aro assured residents that he will strive to ensure that response to disasters and emergencies within the county was swift and well-coordinated to save lives and property.
"Kilifi has had several fire incidents and the response has been poor due to malfunctioned firefighting equipment and we will also purchase rescue boats to respond to disasters at sea," he said.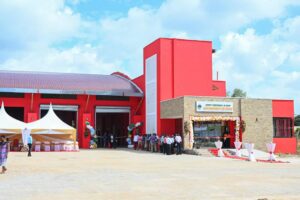 Watamu is among areas that have been experiencing fire disasters leading to the loss of lives and property worth millions of shillings after the then-available fire engines failed to operate.
"This financial year we have procured four fire engines and in the next financial year we will purchase another four so that we have a swift response to disasters," he said.
Kilifi residents lauded the governor effort saying the project was long overdue and that the engines will go a long way in saving lives and property.
Led by Mr Stanley Ibrahim and Mrs Sanita Wanje, the residents appealed to the county government to recruit and train fire services in areas where the engines will be stationed.
"Previously, we have been faced with disasters but the response was very poor due to delay in arrival at the scene and fire engines breaking down but with this property and the four fire engines, we are confident that response to disasters will be swift," said Mr Ibrahim.
Mrs Wanje lauded the County government saying that the facility together with the four new engines will also create employment for the local youth.
"We had a fire incident just near here but the response was poor and people lost property we are happy that we now have the fire engines and I want to urge the Governor to ensure that our youth get employed as firefighters," she said.
The County Executive Committee Member (CECM) for the Department of public works, roads and Transport Catherine Kenga said that the County government will procure more fire engines so that every section of Kilifi has a disaster response team and equipment close to them.
"We have started with these four fire engines and we aim to have each of the seven Sub Counties get at least one fire engine," she said.