By Flora Awinja
Diani, an award winning tourist destination in Kwale is set to hold its first walk for fitness this Saturday (February 25).
The inaugural walk comes as hundreds of Coast residents are adapting to the walking culture for fitness.
Tens of residents are expected to participate in the inaugural 6km walk that will mark the beginning of a series of similar exercises whose core purpose will be fitness.
According to organizers who spoke to Coast Times Digital participants will begin walking for fitness at Corner Beach near Naivas Supermarket, through Ibiza Market, Kona Musa to Mvindeni Red Cross Offices.
Everyone will assemble at 5.45am before the walk begins at 6.00am.
Dubbed – #AStep4OneHealth, the Diani Walkers organizers told Coast Times that the walks will symbolize good health for humans, animals and the environment.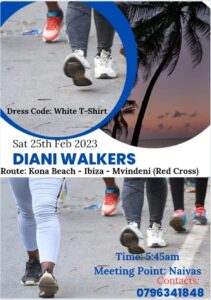 "We might be taking care of our health but forgetting that there is air pollution, and other challenges that pose a risk to our bodies. That is why we are making our purpose a whole round cause," they told Coast Times.
They added that any resident is allowed to participate as it is free of charge with no external affiliations.
Meanwhile Coast Times prides itself to be among the first partners of the walk.
Coast Times Editorial team said the initiative will help in ensuring good health among residents in Kwale County.
"We are glad as Coast Times Digital newspaper to be joining the team as we sensitize masses on how important it is to walk for health. We have many patients in hospitals who are sick and the doctor's advice is to keep fit by walking. We are looking forward to more partnerships," read a statement from the management.
Participants are expected to wear white T-shirts.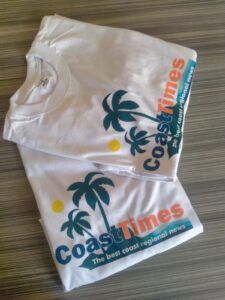 The organizers said that after the first walk, the next exercise will take place on March 4, in which organizers will communicate on the route.
A similar walk is taking place in Kwale town, Mombasa and Kilifi as residents embrace walking for health and fitness.