By Antony Zoka
Fortune Ladies FC are now targeting to remain in the Kenya Women Division one league after a series of poor performances.
According to the head coach, Samuel Sanya, they have embarked on restructuring the team, a move that he said has shown some positive results.
Speaking to the Coast Times sports desk after securing 4 points away in Kilifi, Sanya revealed that there was much to be rectified if they were to remain in the league.
"We had a double header this weekend playing against Coast Starlets at their back yard where we secured maximum points with a sole goal courtesy of Agneta Maku and now have another away point against Moving The Goalpost (MTG) FC in a goalless draw." Revealed Coach Sanya.
He added that they have been struggling since the beginning of the league and the 4 points are in line with their program to ensure they secure a slot in the league next season.
Coach Sanya revealed that they have been lacking coordination in the midfield, a problem that is being gradually addressed.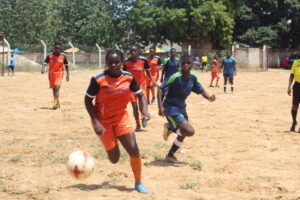 "There was improvement during our match against MTG as compared to the previous matches," he added.
Fortune Ladies have beefed up their squad bringing in new players in the mid field, defence and goalkeeping departments.
In an interview MTG head coach, Fathime Tibu, took issue with the manner in which their match against Fortune was officiated.
Tibu claimed that her opponents had on several occasions handled the ball in the danger zone but the referee did not bother to penalize the misconducts.
"That is done, we cannot discuss more but our focus shifts to rectifying our mistake as a team, we had challenges in finishing and the technical team will work on the same before our next match over the weekend." Said Tibu.
She added that her side lacked concentration in the match leading to a goalless draw result that has maintained the position 4 of the league table.
Coach Tibu assured fans that they remain favorites in the league and will be focusing on winning the remaining matches to book their slot in the top tier women league in the country.