Kwale county governor Fatuma Achani 100 days in office
One of her biggest focuses being mitigating the effect of drought in the county where over 200,000 people have been facing starvation due to prolonged drought.
1. Opening of two dams which are currently operational. A 159 million Nyalani within Puma ward -Banga water project. The ongoing project will serve over 8000 households with clean drinking water once complete.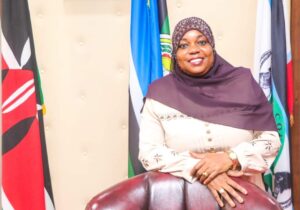 2.107.9 million Kizingo Dam currently operational and serving over 2000 families.
3. Leading residents on planting trees as part of the long lasting solution to curb the effects of climate change. Over 50,000 mangroves have been planted in the areas of Tsunza,Gazi bay, Shimoni and Vanga areas. Directed that in all county functions at least 100 trees should be planted.
4. The Governor hosted a high-level delegation in November last year.Prince Haakon from Norway and Princess Victoria from Sweden.
5. Issuing Kshs. 177, 318, 058.00 as bursary from August to December, 2022 with 11, 075 beneficiaries through the Elimu ni Sasa program.
6. Kwale being among the counties that are highly affected by drought the Governor has distributed relief foods to over 20,000 vulnerable families in Kinango and Lungalunga sub-counties.
7. Commissioning of East Africa Blue Economy Centre of Excellence at Chitsakamatsa Kombani.The two billion center will train students in Kwale County, East and Central Africa on marine transport and port logistics on Blue Economy.
8. Governor Fatuma Achani with President William Ruto officially opened Devki Steel Mills in Gora Samburu subcounty.The steel mills factory offers over 5000 jobs to Kwale youths.
9. Visited and supported Kwale prisons and paid Ksh100k to bail petty offenders where 19 prisoners were granted bail.
10 Governor Achani has been conferred the honor of being the patron of the Kenya Red Cross and helped in raising over Ksh 2 million which was used to buy relief foods to affected families.
11. The Governor has brought on board several financial institutions like KCB, Equity and agreed to provide credit to SMEs and women groups working in Kwale County.
12. American Towers Authority (ATC) is constructing a mast and Digital community center in Busho through Achani administration.
13. The Governor has supported women groups to register companies so as to secure tenders from the County. Khairat group from Macknon,Chanzou group and Kilua in Ukunda ward are among the groups that registered companies.
14. Swearing in of county Executive committee members to ensure locals get services as expected.
15. Gazzetment of County Budget economy forum board members
16. Issuing of drought resistant meat bulls and bucks to residents in Kwale.
17. Issuing of bursary cheques to form secondary school students through the Elimu ni Sasa program