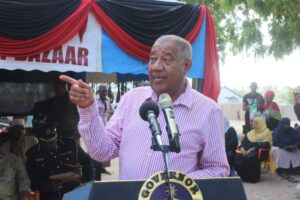 Benard Yaa
The Lamu county government will reward any police officer who succeeds in arresting a drug dealer. 
Governor Issa Timamy has said that his government will give a reward of fifty thousand shillings in cash to the police officer who arrests a drug dealer in the county. 
"We must put in place methods to deal with the whole issue of narcotics. I am saying that because those who use it are victims and we will stick together to help them out of the disaster", said governor Timamy. 
Timamy has warned drug dealers that their days are numbered adding that drug menace must come to an end with immediate effect. 
"I want to tell the County Police Commander that if every police officer arrests a drug dealer, we as the government will reward that officer fifty thousand shillings", said Timamy and asked parents to encourage their children to stop using drugs. 
He described drug dealers as enemies of development in Lamu County.
 "Our enemy number one is the one who sells the drug, so parents if your child is in that business, tell him to stop before the law takes its course," he said.
Governor Timamy also asked the police to arrest people who arrive at the police station with the aim of freeing people arrested in allegations on drugs. 
"I have also directed that, when a drug dealer is arrested and anyone who goes to the police station wanting to free him, that particular person must also be arrested", said Timamy.
Timamy said that he is ready to buy sniffer dogs for police to identify places where drugs are hidden.