At least over 2000 youths in Kwale County have been trained and transformed through a mental health awareness and empowerment program dubbed the Kumekucha Quest.
Most of the youth had once given up on life and were going through depression, drug abuse, and others had dropped out of school and some were victims of teen pregnancies.
The program is run by a coastal youth affairs organization based in Kwale known as Samba Sports Youth Agenda.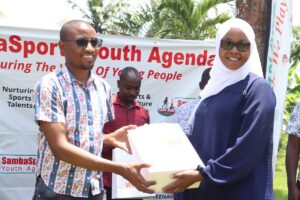 The Kumekucha Quest was formulated in 2021 when cases of suicide, insecurities and drugs were high among youth in the region.
At least 10 cases of suicide were recorded between 2022 and this year, according to Kumekucha Quest project Officer Mwanaisha Kuwania.
The suicide cases were mostly from Kombani in Matuga. Juvenile crime activities were also reported daily.
Kumekucha is a Swahili word meaning a new dawn, famously described as 'A new Dawn for Hope and Connections.
It is a pilot project funded by Grand Challenges Canada and implemented in Kenya through The Green String Network, Samba Sports Youth Agenda.
Kuwania said the program targeted youth, teenagers and children to inspire self-awareness, self-acceptance, hope, community care and relational well-being.
"The project's objectives were to empower children, adolescents and youth with skills, aptitude and facilitating attitude to cope with stressors and swim in the warmth of community care, relation-wellbeing and emotional regulation for them to thrive amidst a world full of stress and trauma," she said.
The youth were picked from some parts of Likoni in Mombasa and Kwale County.
Kuwania said a large number of youth have changed and embraced positive and healthy lifestyles since they enrolled in the program.
She said they sourced the youth from maskanis (Street bases), prisons and several schools in Waa, Tiwi, Ukunda and Diani within the county.
Kuwania said the prisons are normally widely perceived to be centres of desperation, hopelessness, emotions and vengeance.
She said through the program they transformed 30 prison officers and 43 inmates from Kwale GOK prisons who adopted a new positive attitude towards their day-to-day affairs, flickered hope and forgiveness.
Kuwania said the youth were engaged in training and trauma-healing sessions that involved the use of dialogues, storytelling, songs, sports, comedy, and skits among others.
The project officer said the program has helped many children, adolescents and youth embrace change and renew hope assisted in propelling their healing journey.
She said some of the students went back to school and college after finding the strength to start over and re-setting life goals.
"We had students and youth who had given up, they didn't see the reason to continue learning and some wanted to commit suicide because of life challenges, unemployment and high cost of living," she said.
Kuwania said many youth have now moved to be entrepreneurs and run various self-income generating activities.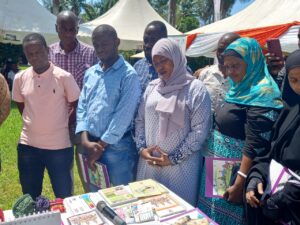 She said the insecurity cases have dropped since youth are resilient and empowered.
Samba Sports Youth Agenda CEO Mohammed Ali Mwachausa said the program has helped change the community's perception towards mental health.
He said the majority of the community used to believe depression was caused by witchcraft and curses.
Mwachausa said the project enabled youth and the community to be politically and religiously tolerant.
He said youth especially in Waa, Kombani, Maganya and Denyenye were in constant vengeance that caused a lot of bloodshed and insecurity.
Mwachausa said the Kumeckucha Quest reversed the trend and provided safe spaces for youth and community to resolve conflict peacefully.
"Our youth have learned new positive ways of settling their differences unlike before when they believed in violence," he said.
He said the youth have gained self-control and anger management skills as well as improving their reconciliation methods.
Matuga Deputy County Commissioner Lucy Ndemo hailed the project adding that it has promoted peaceful co-existence and helped curb insecurity.
She said most youth were suffering from various mental health triggered by numerous life challenges.
"We are all aware of economic constraints and its effects cannot be ignored especially on our youth who have high expectations," she said.
Ndemo called on other organizations to intervene to reach out to more youth and help transform lives.
A youth and one of the beneficiaries Mwanaisha Hussein said the program helped her cope with life stress and moods.
Hussein said she used to be violent and irrational in her thinking.
"I used to be a very irritable person, ready to attack anyone for revenge, however through the healing-centered sessions, I learnt how to manage my anger and improve psychological health," she said.